By Jessie
I made my triumphant post-marathon return to the run club today, and enjoyed an easy 7 miler with the club. As I was running, I realized I haven't mentioned my run club yet, even though it is a big part of my fitness life. This post is officially dedicated to
the Calhoun Beach Run Club
!
My husband and I first joined this run club in February of 2010, and have been sweating and smiling with this awesome group of runners since. We have trained with this club for four marathons in the 1.5 years with the club, and the training has been perhaps even more memorable than the marathons themselves.
The club meets four times a week- Mondays, Tuesdays, Thursdays, and Saturday mornings. Membership is around $250/year, which includes use of the locker rooms and showers at the beach club. Summer training attracts a lot more runners, but there is a solid group of hard-core athletes who tough it out through anything Mother Nature hands us- Running through blizzards, heat advisories, thunderstorms- this group is tough.
The coach
volunteers
his time run after run, offering expert advice and support throughout the year.
He puts together training schedules for multiple marathons per year, and is always quick to answer any questions members have for him.
But the best part of the club? The fan-tabulous group of people!
I have met some really amazing friends, and I am very thankful to have their support and friendship in my life.
From my experience, I would recommend running clubs to any runner interested in the motivation of running with a group, and the joy of making some new friends with a shared interest in running. There are lot of run clubs in my city, and probably in yours! Look into it- I promise you won't regret it!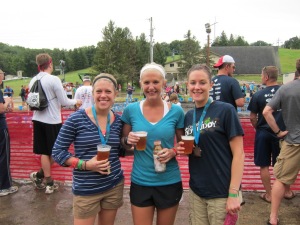 Definitely a favorite fit!
(Visited 143 time, 1 visit today)