By Jessie

This Saturday, my husband and I are running the St. George, Utah marathon. We are slowly trying to run a full marathon in every state. This is my 10th marathon, but only my 8th state:
1. Minnesota- (Twin Cities Marathon 2005, Twin Cities Marathon 2008)
2. Wisconsin- (Lakefront Milwaukee Marathon, 2010)
3. Missouri- (Go! St. Louis Marathon 2011)
4. Michigan- (Grand Rapids Marathon 2006)
5. Washington- (Rock n Roll Seattle Marathon 2010)
6. California- (Rock N Roll San Diego Marathon 2006, Big Sur Marathon 2009)
7. Illinois- (Chicago Marathon 2007)
8. Utah- (St. George Marathon 2011- ThIS WEEKEND!)
9. Tennessee- (St. Jude Memphis Marathon 2011 – December- with a visit to the Southern half of the Right Fits!)
St. George!
The marathon begins in the majestic Pine Valley mountains and descends nearly 2600 feet through scenic southwest Utah, to the beautiful Worthern Park. It is a challenging course with plenty of uphill along the way. The St. George Marathon is a point-to-point race. http://www.stgeorgemarathon.com/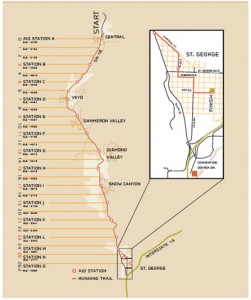 Wish me luck!
(Visited 196 time, 1 visit today)