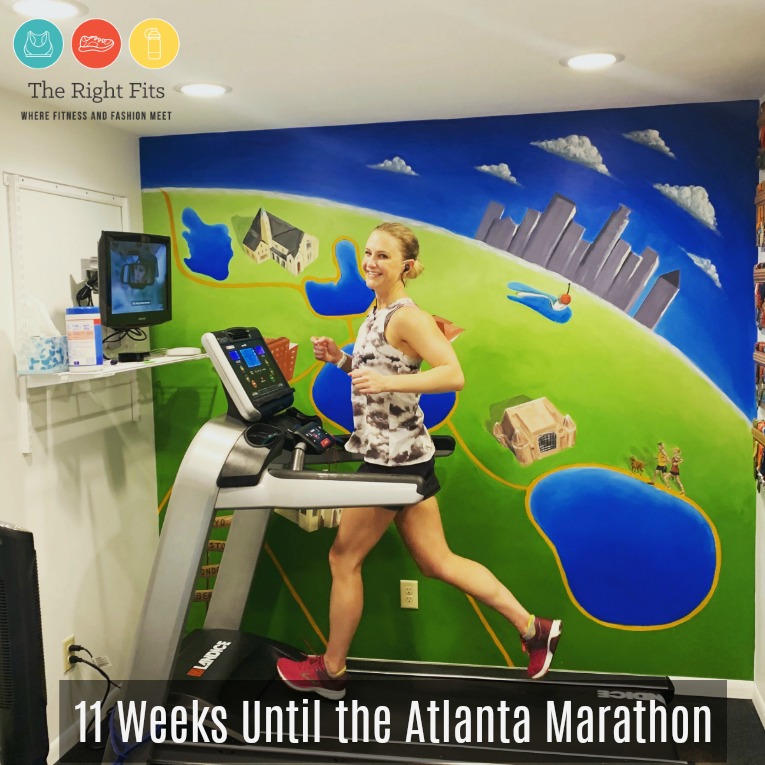 Is December flying by or what? I hope the same is true for January and February, as those are definitely the worst months for runners in Minneapolis. I'm officially 11 weeks out from marathon #34, the Atlanta Marathon, which will be my 23rd state on my 50-state quest. I'm here recapping my training this past week.
But first, please check out this guest post from Kate, an athlete that I coach, who had an amazing race at the Philadelphia marathon a few weeks ago. It's such a great post– she does an amazing job recapping all the emotions of the marathon, especially the pure joy of surpassing a goal! Check it out.
And now back to my own training this past week:
Monday: 6 miles on the treadmill before work, Discover Strength after work.
Tuesday: 8 miles on the treadmill with 10 sets of 90 seconds progressively faster: 30 seconds at 8:15, 30 seconds at 7:45 and 30 seconds at 7:15 with 90 second recovery. With warm-up and cool-down, I got to 8 miles.
Wednesday: 6 miles on the treadmill, 9:15 min/mile pace.
Thursday: 7 miles on the treadmill with 3 minute pick-ups at 2% incline with 2 minute recovery, 6 sets or 30 minute of work within a 7 mile run.  Discover Strength session after work.
Friday: 6 treadmill miles before work, 9 min/mile pace.
That evening was my work holiday party, which had a masquerade theme. Of course, I didn't get any pictures of Dustin and me together, so this will have to do.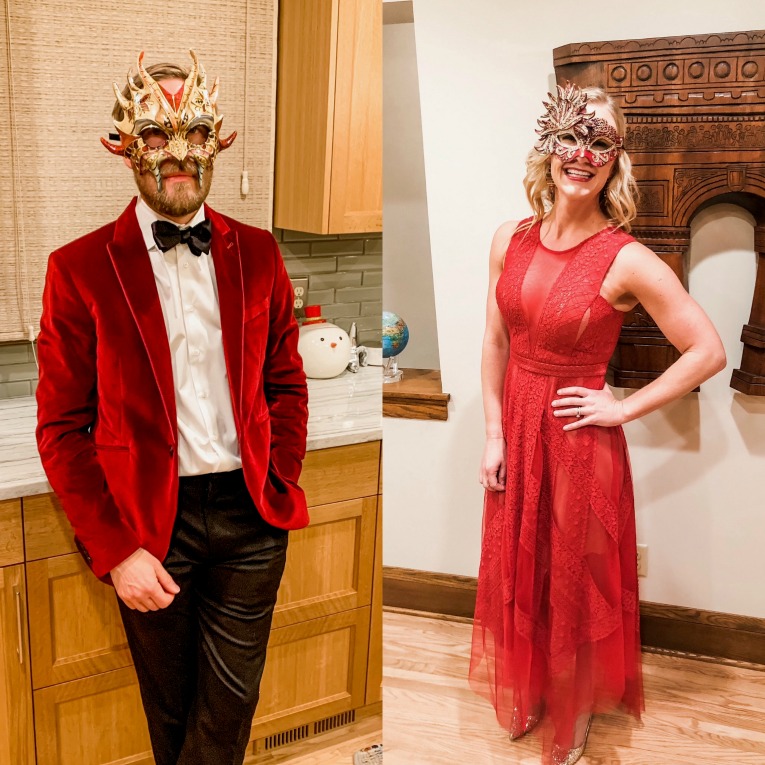 Here's another pic of some of the fun masks:
Saturday: After staying out much later than normal on Friday. I knew I'd want to sleep on Saturday, so I moved my long run to Sunday.
Instead, Dustin and I just ran 4 miles at an 8:45 min/mile outside. It was a brisk 3 degrees but the sun was SO bright. I actually got a little sunburned/windburned on just a 4 miler!
Sunday: Another cold day, but I really wanted to do my long run outside and fortunately my friend Christie had moved her long run on Sunday as well.
When we met at 9 am when it was about -5 degrees. Yikes. But we bundled up and made it through 14 miles.
The hardest part wasn't the cold, but the snow packed trails; they were challenging! Its a lot more work physically to run in the winter, between the extra pounds with all the layers and the lost energy pushing off the snow.
My Kahtoola nanspikes did help a bit in those conditions, but its still a lot of work! I was beat after 14 miles.
Summary: 45 miles of running, 2 strength sessions; 18 out of 45 miles outside, the rest on the treadmill.
In non-running news, if you recall, Ruth got spayed last Friday. Her recovery was a little rough, as she had a bad reaction to the pain meds and/or the antibiotics.
Fortunately, she's feeling a lot better now…And she's discovered where the heater vents in the house, ha!
I'm linking up as usual with Running on the Fly and Confessions of a Mother Runner as part of their Weekly Rundown. Check it out!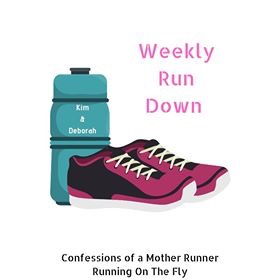 (Visited 226 time, 1 visit today)