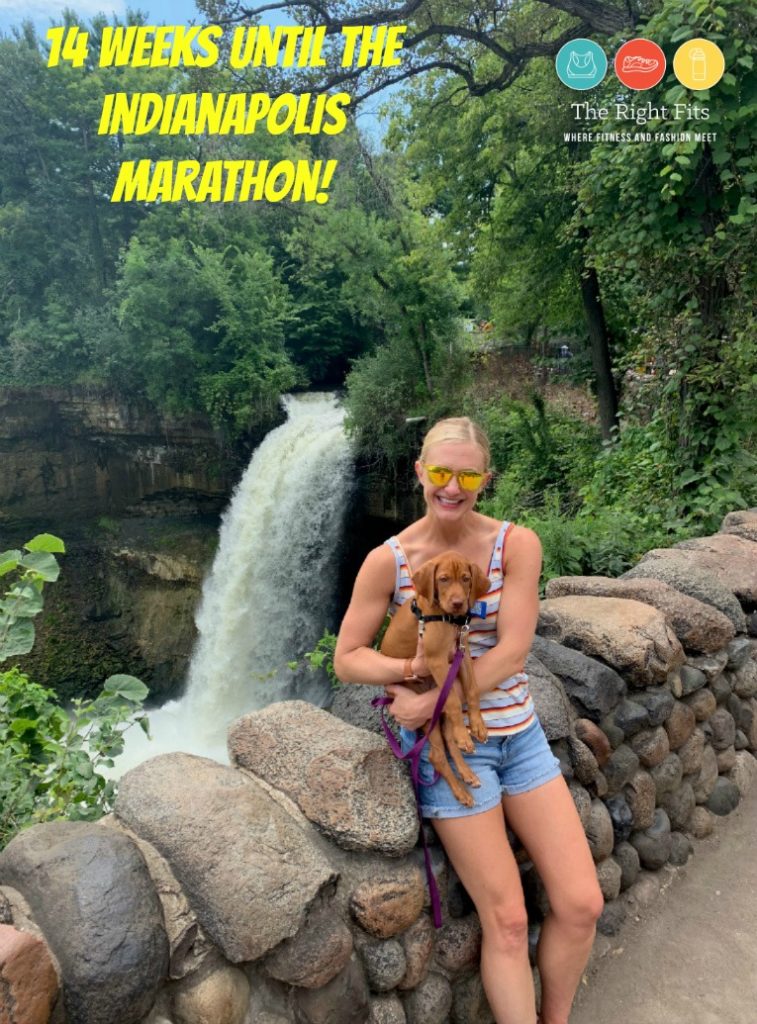 Happy Sunday! I hope you had an amazing week and weekend! I'm here to recap my training for the Indianapolis Marathon, which is 14 weeks away.
Here's how things went in fitness this week!
Monday: 9 miles easy before work, 9:24 min/mile average, Discover Strength over lunch
Tuesday: Workout Day! 3 miles easy, 1 mile at moderate tempo (7:37), 3 minute recovery, 4x400m around 7 min/mile with 200m recovery, 1 mile at moderate tempo (ended up a little slow on this one with 7:53), 2 mile cool-down. 9.5 miles total.
Wednesday: When my alarm went off at 4:45 am, I was just too tired to get up, so I cancelled on my friend Christie and did my run after work, from work, around 7:30 pm. 7 miles along the river, 9 min/mile pace. Beautiful night, but grumpy Jessie for being at work until 7:30 pm.
Thursday: I didn't want to sleep in again and get stuck at work, so I was up for 5 miles easy with some friends, 9 min/mile.
Friday: Up early again for 7.7 miles solo, 8:55 min/mile pace. Great run for my mental health. Felt so much better afterwards. Discover Strength over my lunch.
That evening, our friends Paul and Laura treated us to the Brewer's Tasting menu at Pig Ate My Pizza; it was delicious; each course was paired with a small pour of a local beer.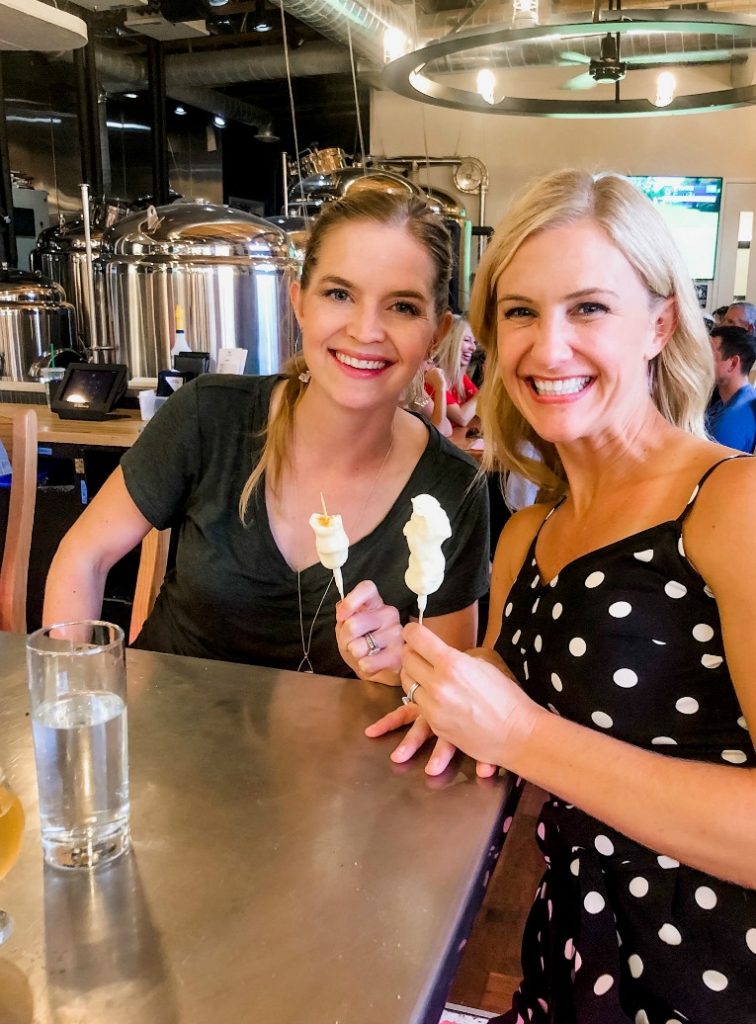 Amazing dinner, but I was SOOO full afterwards! I was in a bit of a food coma and was really glad I wasn't doing my long run Saturday morning!
Saturday: Just 5.5 miles with Matilda (the older vizsla) we randomly ran into my friend Vicki, so we joined up with her. (I wasn't doing my long run on Saturday because we were racing the MDRA 15k on Sunday.)
After the run, we had our second session of Ruth's puppy class. She's pretty good at "sit," but the "down" command is definitely still a work in progress!
Houstraining is still a work in progress as well….She's 10 weeks now; we've had her for two weeks. Puppy owners out there- how long did it take your dog to be fully house trained? I know that Matilda's puppyhood was ten years ago, so maybe I'm just forgetting, but I feel like she caught on really quickly and we rarely had accidents, but definitely not the case with Ruth!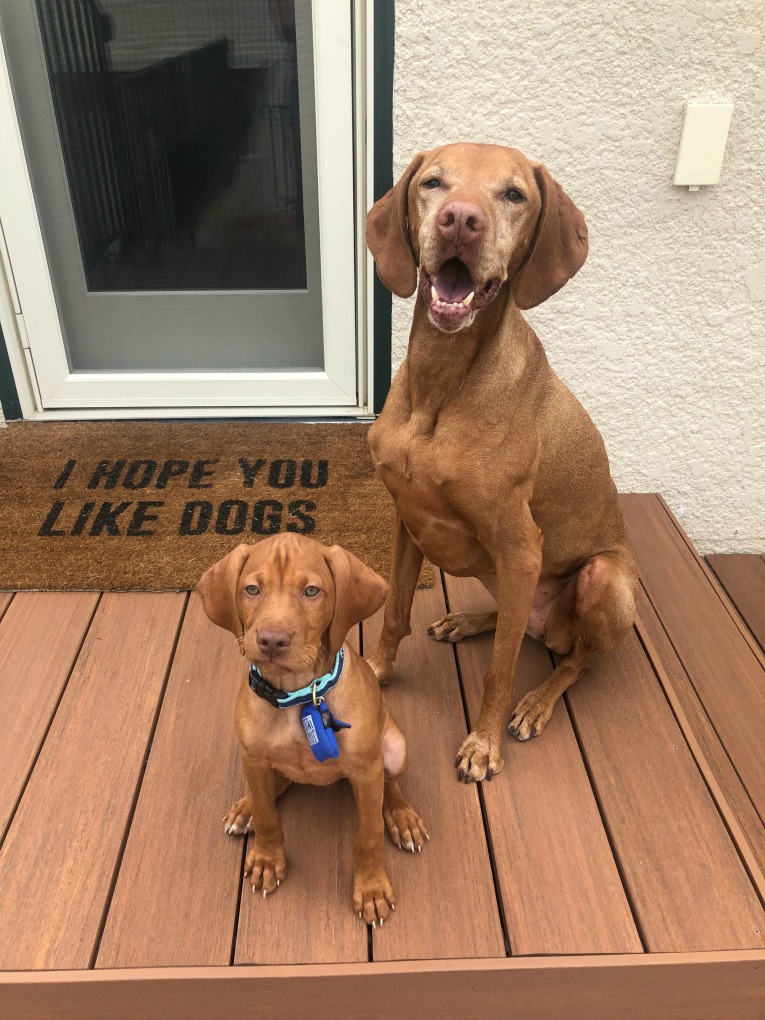 That evening, we had dinner at our friends Leslie and Jeff's house; they invited us to bring both dogs as they have a big backyard and a cute dog named Bella. Breck, the golden retriever, was there too.
I'd be remiss not to mention that Matilda has also met her "cousin" Lola the malti-poo! My sister and her kids came over last Sunday night for dinner. The two of them had a blast playing together.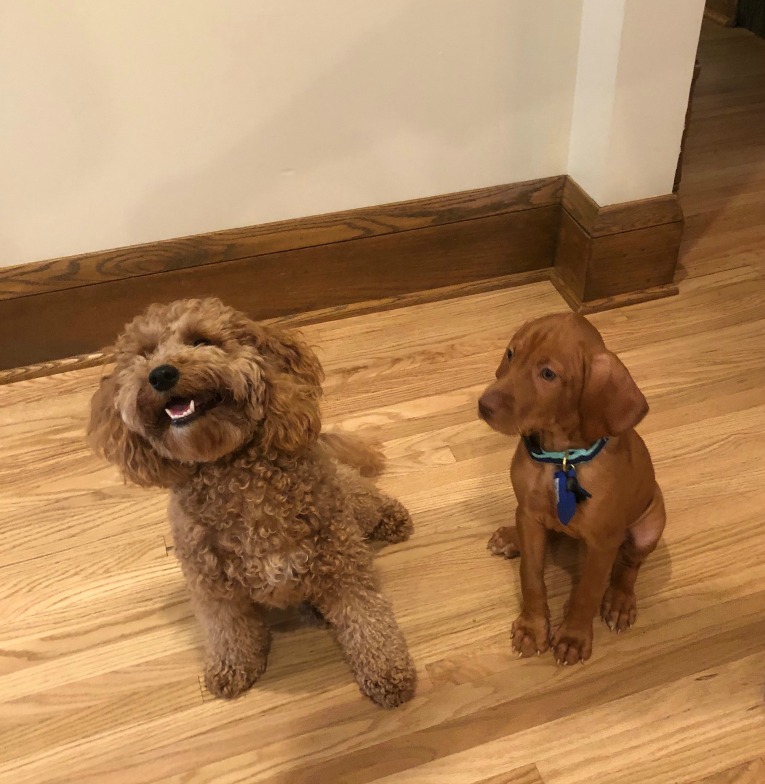 Sunday: MDRA 15k! This race is part of my run club's USATF Team Circuit. It started at Crosby Farm Park in St. Paul and normally runs in the park, but due to flooding, the course had to be changed to an out-and-back on Shepherd Road. That route wasn't quite as fun, but I did like the out-and-back to be able to cheer for the other runners!
It was pretty hot and humid; my coach had wanted me to run this around tempo pace while also focusing on smarter pacing than the Torchlight 5k last week, but the weather made that goal unattainable for me. Instead, I averaged around 8:18 min/miles and that was hard enough for me in the conditions. With warm-up and cool-down, I ended up with about 11 miles on the day.
Summary: About 55 miles of running, 2 strength classes.
Next week is a "mental recovery week" per my coach, before being fully dedicated to marathon training for the following 12 weeks. I'm excited for a little bit of a cutback week, but equally excited to really dive into focused training after that! Nothing I like more than a structured training plan and a goal to work towards.
And just for fun, one last picture of Ruth and Matilda. We aren't letting Ruth on the bed yet, but I put her up there while I was getting ready for work and she crawled behind the pillows. I thought this was just the cutest pic!
I'm linking up with Running on the Fly and Confessions of a Mother Runner as part of their Weekly Rundown. Check it out!
(Visited 277 time, 1 visit today)