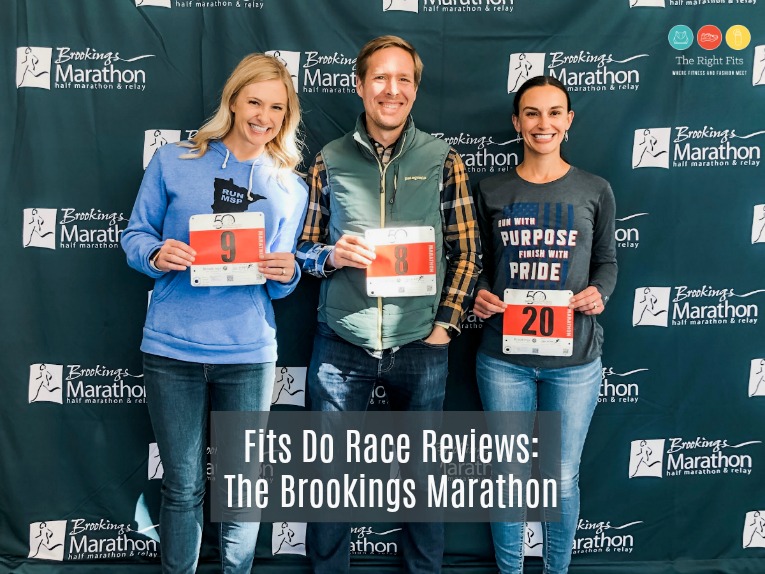 On May 11, 2019, I ran my 32nd marathon, the Brookings Marathon in South Dakota. It was my 21st state in my 50-state marathon quest.
I ran this marathon with my sister Erin; I called myself her "pacer," but in reality, I just ran it with her for the experience…because I love running marathons with her! I wasn't ever planning to run a particular pace and hold that pace no matter what happened to her, but rather I had always planned to run with her the whole time no matter what.
It was my third marathon with her; we ran the Twin Cities Marathon together in 2016 and Grandma's Marathon together in 2017. Both times we ran together, she set a PR (Personal Record.)
Unfortunately, spoiler alert, Brookings was not a PR for her. But she did finish her TENTH marathon and we still had a great time together.
Erin lives in Chicago, so she flew to Minneapolis on Thursday night before the race. (It was a Saturday marathon.)
She looked into flying directly into Brookings, but as a town of about 23k, flights are limited. It made more sense for her to fly to Minneapolis and drive with Dustin and me to Brookings on Friday.
We left Minneapolis around 12:30 and arrived in Brookings with plenty of time to check into our hotel, the Comfort Inn & Suites, before heading to the expo. The expo was held at the Children's Museum of South Dakota from 5-8 pm.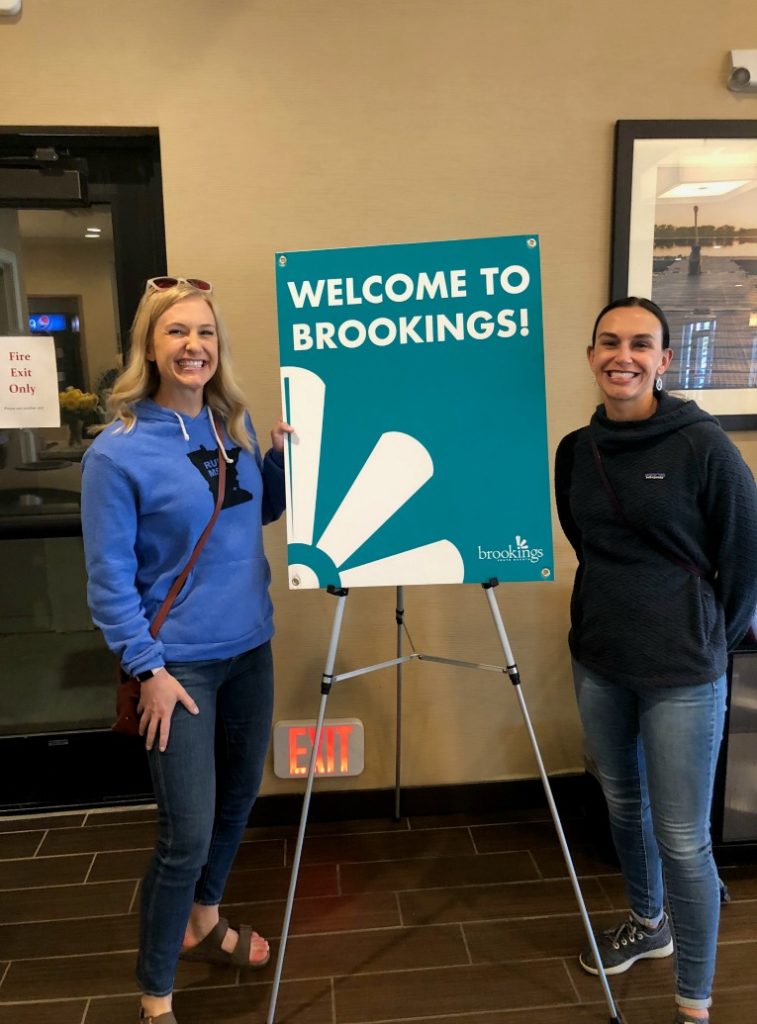 For such a small race, the expo was perfect; there was a quick line for packet pick-up. Our "SWAG" included surprisingly high-quality reusable gear-check bags and a nice half zip race shirt for runners. There were also cowbells with the Brookings logo.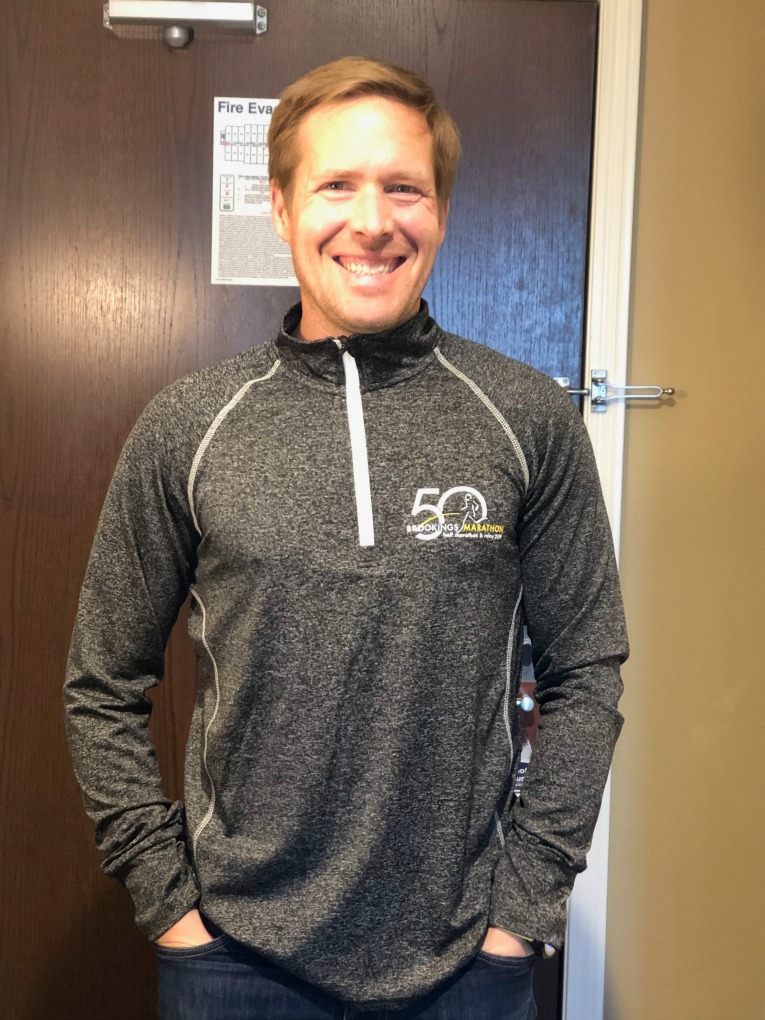 After the expo, we grabbed a pasta dinner at Craft Italian-American Fusion before calling it an early night at the hotel. The night before a marathon is always so lame. 🙂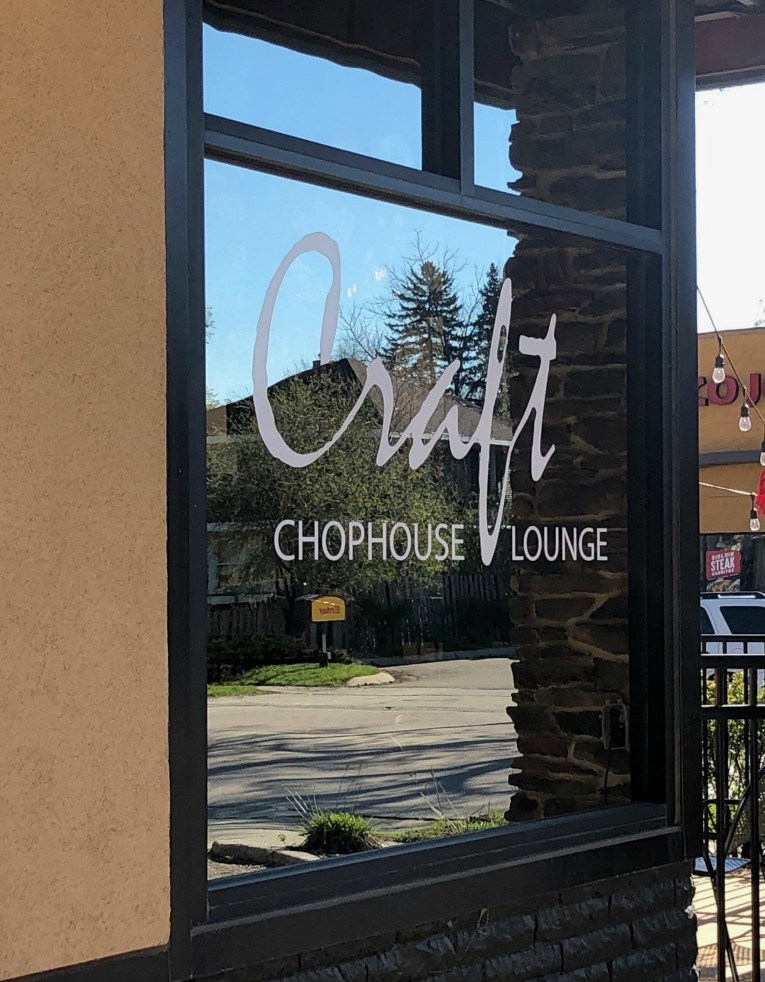 The Right Fit in Race Gear:
I wore Oiselle summer rogas, this Flyout tank, Pro Compression socks, my trusty Brooks Ravennas, Goodrs, a BIC band headband, Louva arms sleeves (I tossed them pretty early on), and a Sweaty Betty sports bra.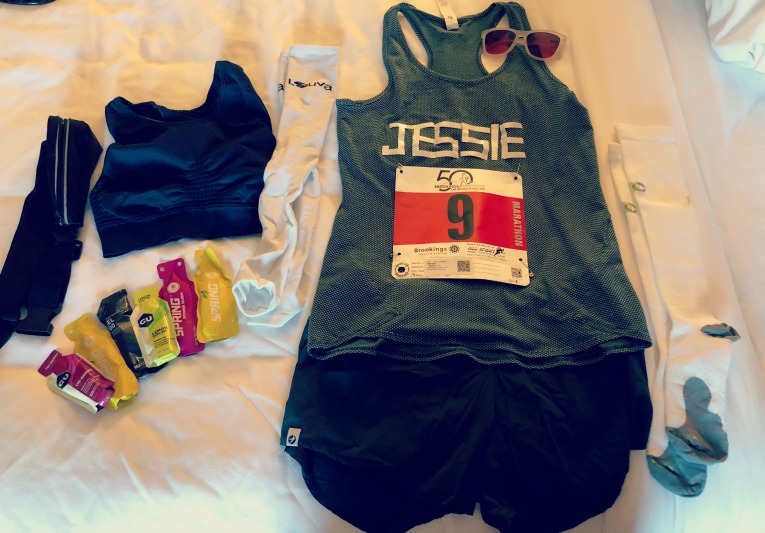 For fuel, I ate a bagel with peanut butter before the race and took a Spring gel about 45 minutes for the start. During the race, I took 1 Maarten gel, 2 spring gels, and 1 GU gel. I alternated between water and Powerade at the aid stations.
Erin and I were twins in our matching Oiselle outfits!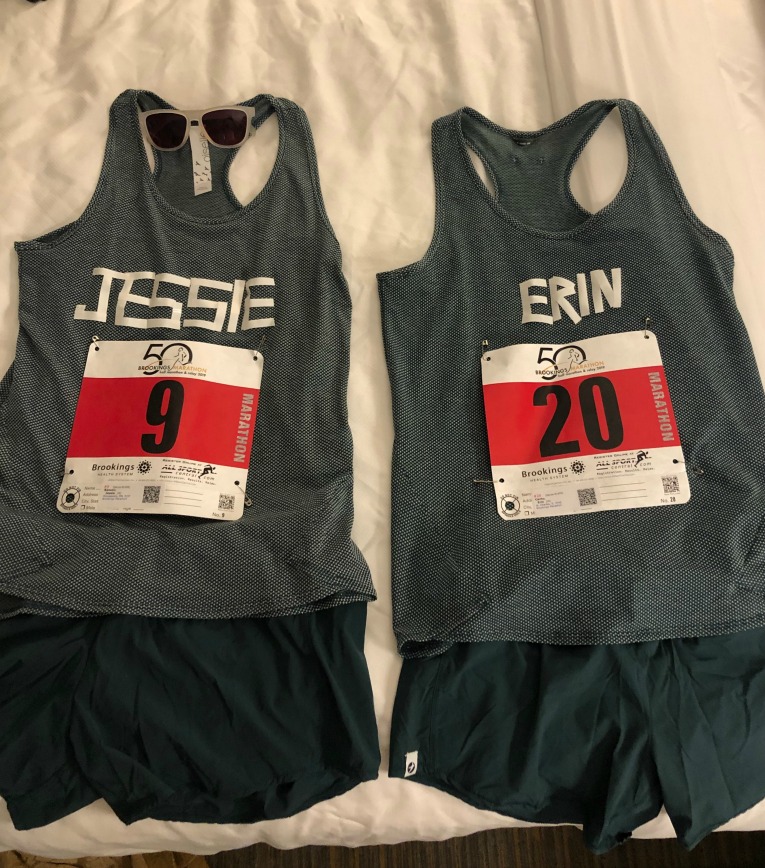 The race started at 7 am; we had originally looked into the shuttles to the start, but then we found out that there would be plenty of parking at the start line, so we just drove there instead. We arrived around 6:15 am and were able to stay warm in the car until we had to use the porta-potties and drop off our gear bags.
Small marathons like this one are so easy with regards to logistics, particularly if you compare them with the complicated logistics of some the World Majors (I've done all 6!). A race like Brookings is stress-free!
The start line was just easy; driving there, parking, no bathroom lines, no lines for gear check, just simple.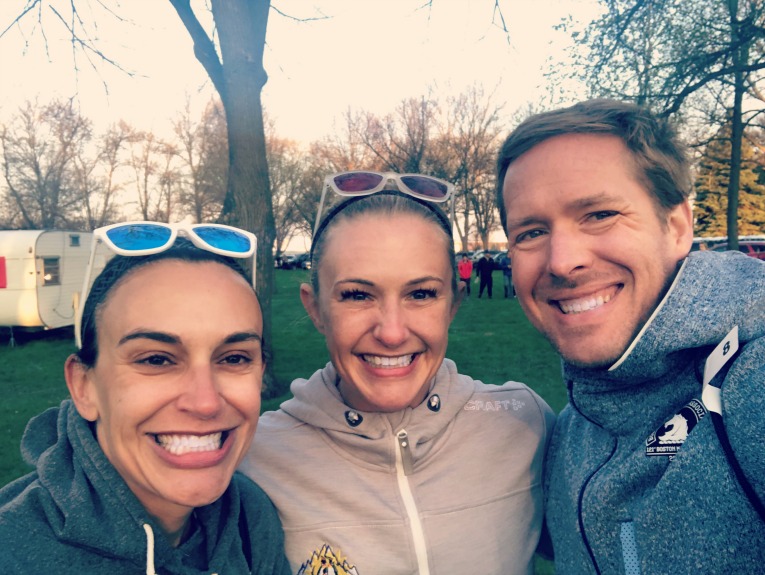 The race included half marathoners, relay runners, and us (the full marathoners.) Corrals weren't necessary; there were signs to line up according to pace, so we lined up around the 4:20 pace. After the national anthem, we were off!
Going into the race, I was pretty confident in her training and that she was ready to run around a 4:15-4:20, which is about a 9:45 min/mile pace, so I try to settle in at that pace.
Mile 1: 10:05
Mile 2: 9:42.5
Mile 3: 9:58.9
Mile 4: 10:00
Mile 5: 9:52.2
Mile 6: 9:56.7
Mile 7: 11:02 – we had a quick bathroom stop here and Erin said the pace was feeling too hard and she was worried this wasn't her day. I think she was already getting into her own head and giving up, but we tried to keep up around goal pace for a few more miles.
Mile 8: 10:01
Mile 9: 9:58.1
Mile 10: 10:18
Mile 11: 9:49.7
Mile 12: 10:33- Things started to slow here; if you have ever been to South Dakota, you know that it is a WINDY state! I kept joking that I was Erin's wind block and she should draft off me. Already at mile 12, she did not find me very funny…But the wind was no joke!
Mile 13: 10:48- Erin started to take walk breaks, particularly through the water stops, but I was still optimistic that she could hold it together. I tried to be as encouraging as possible, but I could sense her negative mental state.
Mile 14: 10:38- One of the athletes I coach also ran this marathon and commented afterwards that she was "so tired of running up-and-down every ding-dong street in this town!" And it was so true! Just looking at my Garmin data and you can see how the course went: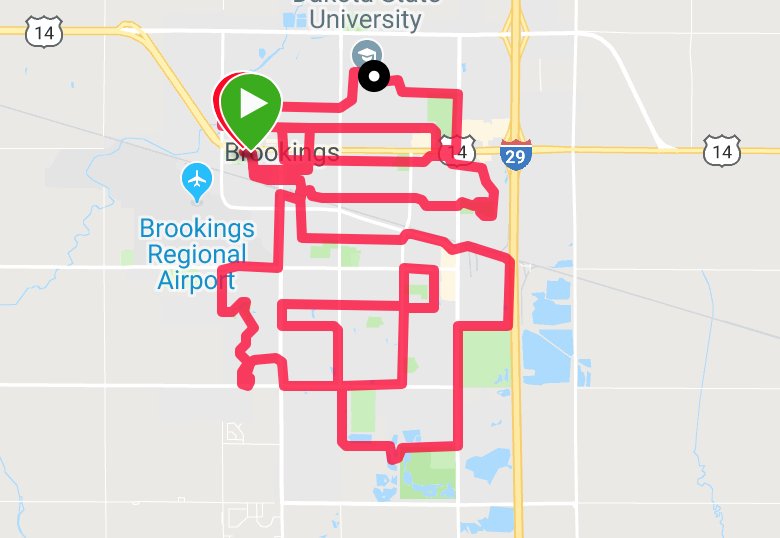 Though it was a bit zig-zaggy, I actually thought that they did a good job of keeping the race in the city rather than on random country roads. The wind would have been a lot worse out on country roads!
But at the same time, there was a lot of back-tracking and repeating roads throughout Brookings. Dustin didn't mind the course at all, and even though it was loopy, I felt like they did the best they could to keep it close to the spectators!
Mile 15: 10:43
Mile 16: 11:13- definitely more walking here.
Mile 17: 11:07
Mile 18: 11:52- Erin was starting to get really annoyed with me, but I was doing everything I could to keep her going. I did not want to walk the whole last 8 miles, so as much as I could encourage her to jog as much as possible. I tried my hardest…but I think I was saying all the wrong things; even though I had said the same things at Twin Cities and Grandma's before when we ran together, those motivating statements weren't so motivating this time around. She grew increasingly annoyed with me, but I was a little frustrated with her too as I knew she trained way too hard to walk the last 8 miles!
Mile 19: 11:44
Mile 20: 11:40
Mile 21: 12:09- I tried every trick in the book to keep her running, but she was not happy.
Mile 22: 11:52
Mile 23: 11:54
Mile 24: 12:44
Mile 25: 12:33- There was a bit of swearing by Erin at this point. Just like at Grandma's, she was so annoyed that the finish was nowhere to be seen. A spectator cheered and said, "just one more mile" and she was SOOO mad because "he should know that it was LESS than a mile!"
There might have been some f-bombs dropped by her at this point…
Mile 26: 11:27- Finally, the finish line! We also ran past Dustin at this point, who snapped a few pictures.
Finish Time: 4:48:38.
Not the 4:20 she was hoping for. But we finished another marathon! No matter what, I still love that finish line.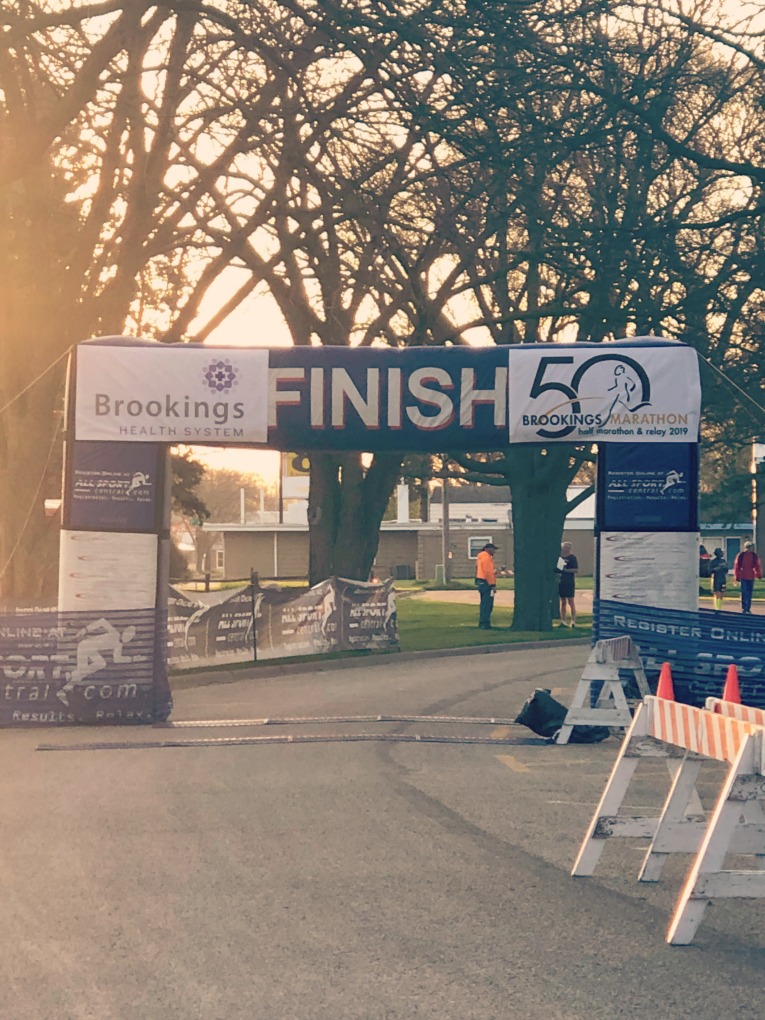 When we crossed the finish line, they actually announced us by name and said we were sisters running together. How sweet is that! Love the small-town charm at Brookings!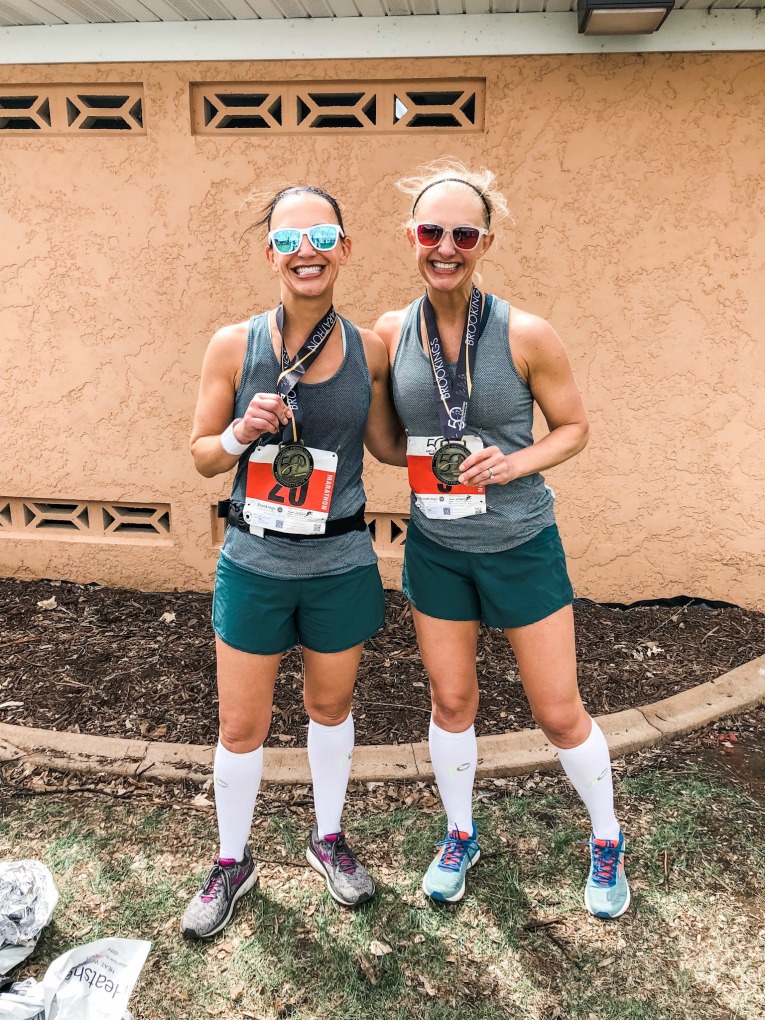 Even though it was a windy (weather-wise) and winding (course-wise) course, it was very flat and could be a very fast course for many.
Dustin was planning to run it 'easy' for him, which he thought would be around a 3:30, but he ended up with a 3:23 and felt great the whole time, no hamstring issues. He had a pretty positive experience in Brookings.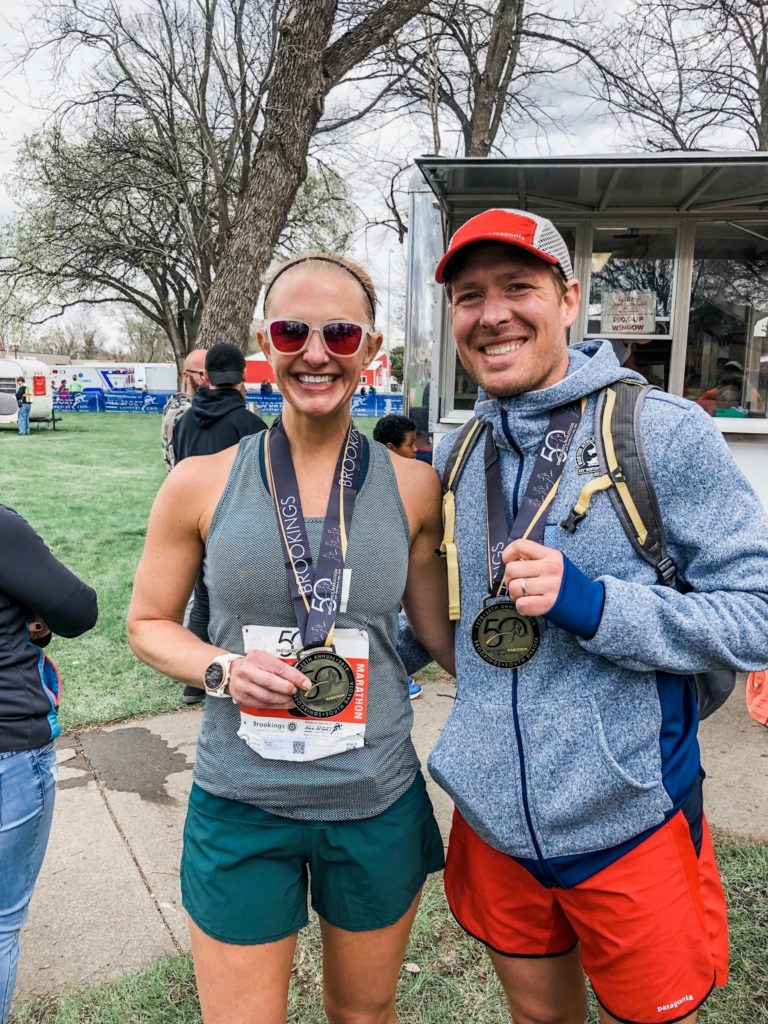 I felt like the Brooking marathon was a good "South Dakota" experience. I know that there are a few other solid options in South Dakota, but I feel like Brookings was a great way to see 26.2 miles of this state!
If you need big crowds/spectators and hoopla, this is not the marathon for you. But if you like a low-key, small-town race, this is a good choice, especially if you are on a 50-state quest! The weather, other than the wind, was really great! And I haven't even mentioned that registration was actually buy one, get one free, as well as free entry if you were the first person to register from that particular state. Neat!
And…there were free burgers at the finish line! I mean, how awesome is that?
They were made-to-order, so you did have to wait about 20 minutes to get one, but worth the wait. Delicious.
And just like that, we finished, grabbed our gear bags, and then easily walked back to our car to drive back to the hotel .
After showering, we rallied to check out the post-race party at The 9 Bar, downtown next to Cubby's. It was such a fun little party!
They had pint glasses for all runners and a free beer. There were prize drawings and live music and a slideshow on a big screen of pictures from the race. Seriously, such a nice touch! You don't get that sort of small-town charm at most marathons.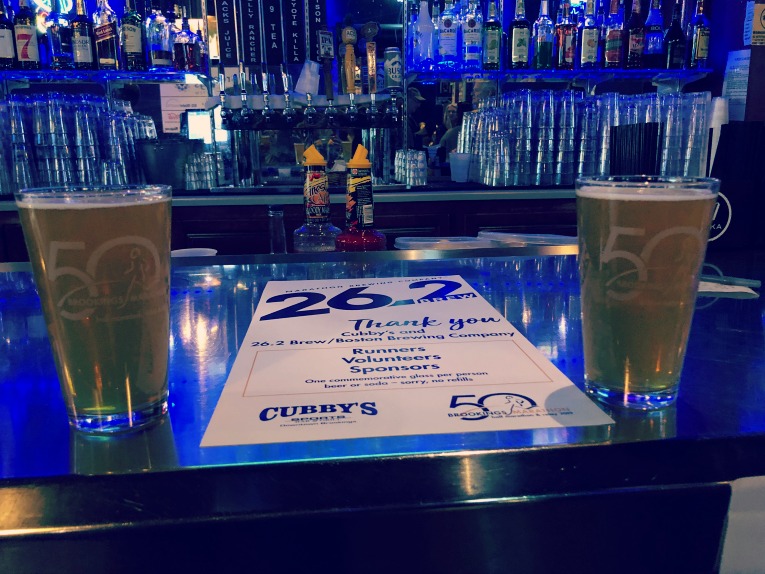 We needed more than a beer after 26.2 miles though, so we went to Wooden Legs Brewery for some pizza (and perhaps another beer.) Then, back to the hotel to nap for awhile.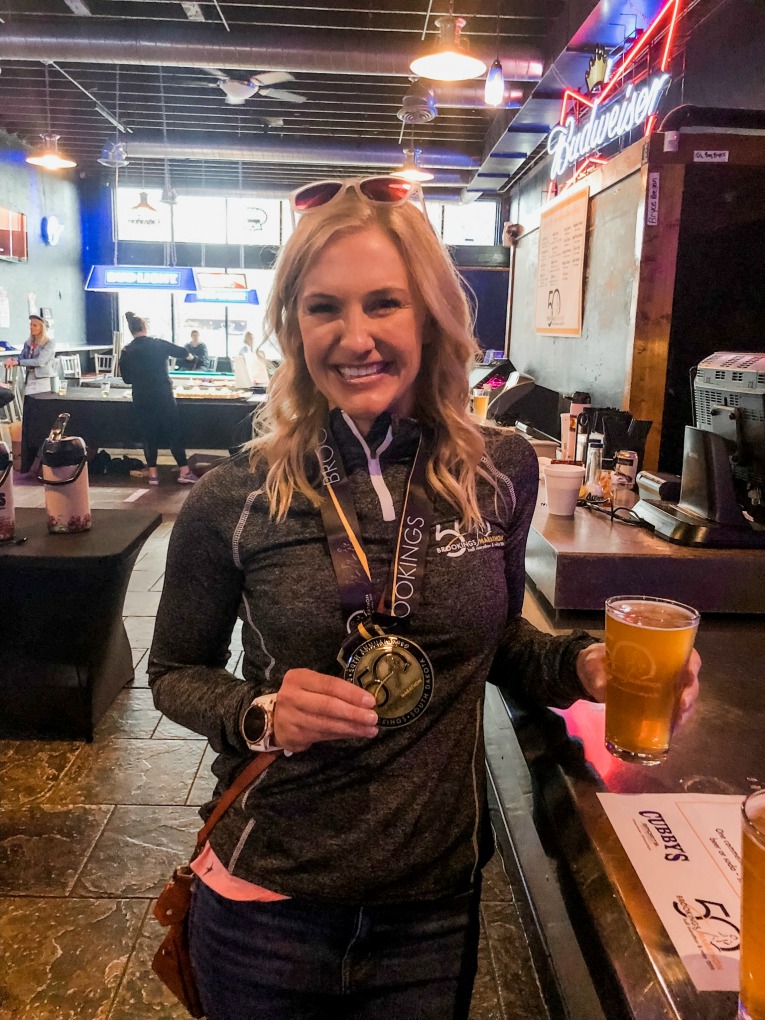 Eventually, we made it to dinner at the Ram/O'hares, which was pretty good.
All in all, it was a fun little weekend with my sister (and Dustin, of course!). Even though she had a rough race, she finished and was able to walk away with a few lessons and another marathon under her belt. She's got the drive now to train hard and hopefully work on her mental strength for her next marathon. Even though she was annoyed with me during the race, afterwards, she could laugh about it and reminisce about all the fun parts of the race.
And me?
I've got the drive too! I'm excited to train hard this summer to race the Monumental Indianapolis marathon in the fall.
Anyone else going to be there? I've heard it's a great race, and we haven't run a marathon in Indiana yet.
I don't think I'll be back to BQ shape, but I'm excited to train and see if I can get close!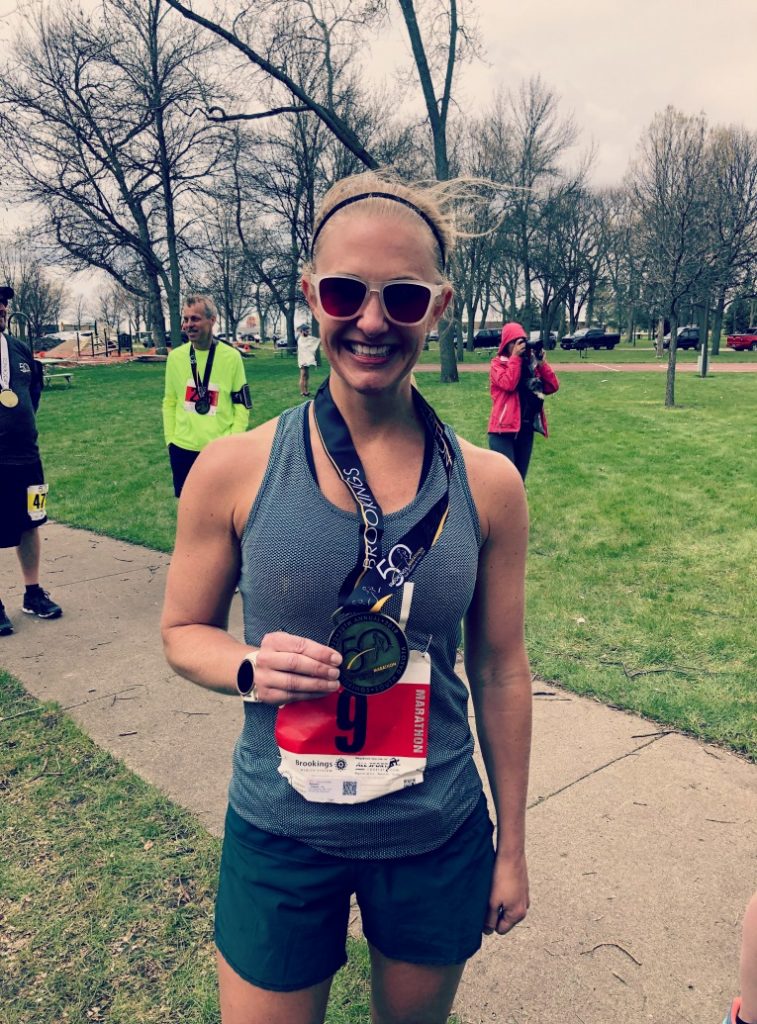 (Visited 692 time, 1 visit today)