I recapped the Antarctica Marathon in THIS POST. It was the most challenging marathon I have ever done. Check out all the gory details there!
Now, I'd like to share a recap of the rest of the trip, which, to quote my friend Phil from the Cayman Islands (who took the same trip a few years ago), was a "belter of a trip."
A "belter" of a trip for sure!
I know most of you want to see more pictures of Antarctica, but first let me recap the non-Antarctica bits. Stop by in a few days for more about the Antarctica part of the trip!
Saturday, March 9: The two-week adventure started for us on Saturday, March 9th, when we flew from Minneapolis to Atlanta. We had moved our flight way earlier to avoid getting stuck in Minneapolis due a blizzard there; (I'm so glad we did, as I'm sure we would have been delayed and missed the flight to Buenos Aires! Thanks Delta for being so great about switching us!)
Now, with more than a 10-hour layover in Atlanta, we decided to take the MARTA (train) into the city from the airport and purchase day passes at Exhale Spa & Gym in midtown.
For $25/person, we were able to store our carry-on bags in lockers and go for a 5-mile run around Piedmont Park. It felt great to stretch our legs and break a sweat and then shower before the 11-hour flight from Atlanta to Buenos Aires.
We also grabbed a late lunch at Bulla Gastrobar in Atlanta before taking the train back to the airport to catch the next flight.
Sunday, March 10: Upon landing in Buenos Aires, Argentina, Marathon Tours arranged for a shuttle for those of us on the Atlanta flight to the hotel.
We checked into our hotel, the lovely Alvear Icon, around 1 pm. I was so happy that our room was ready, so I took a quick shower and then we went for an hour walk along the canal in Puerto Madero in Buenos Aires.
At 4 pm, there was a Marathon Tours shake-out run through an ecological park nearby. We turned it into a 7-mile run to go check out the ferry that we'd eventually take to Uruguay later in the week. 
That evening, we were on our own for dinner in Buenos Aires. We walked a good 2 miles to a tapas place that looked good on Yelp, only to find they weren't really serving food at 7:30 when we arrived.
Argentines eat late!
So we had a beer there, and then walked back to our hotel in Puerto Madero to eat at a restaurant along the canal.
Monday, March 11: Marathon Tours arranged for a 3 hour sight-seeing tour through Buenos Aires.
Highlights included La Recoleta Cemetery, where Eva Duarte de Perón is buried: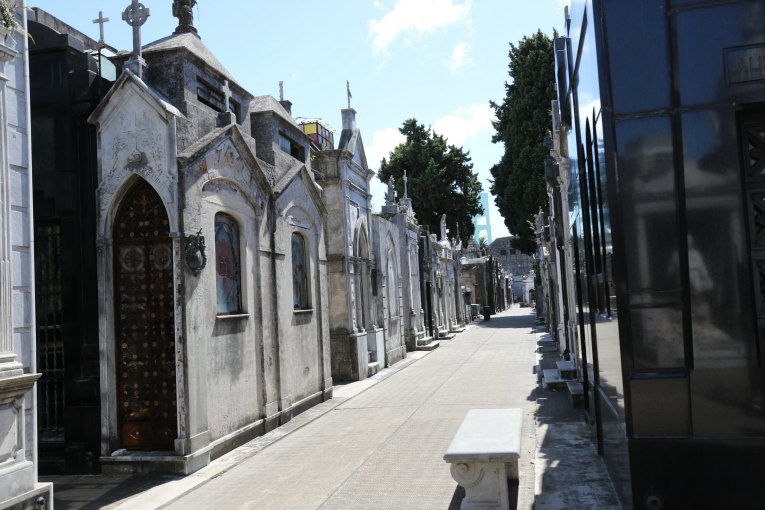 We also saw the Metropolitan Cathedral and Casa Rosada, or the "pink house":
A highlight for me was the colorful neighborhood El Caminito:
After the tour, we hopped off the bus in Recoleta to grab lunch before walking to the famous bookstore Ateneo Grand Splendid:
We had such a lovely day for exploring Buenos Aires- picture perfect weather.
At 4 pm, there was another group run with Marathon Tours, this time just 5 miles. 
The Antarctica trip consisted of two ships full of runners, the Vavilov and the Ioffe; as I mentioned in my marathon recap, each boat ran the marathon on separate days, so their trip was the same itinerary just one day later. So those runners all arrived on this day. We all attended a Welcome Reception together at the Alvear Icon hotel. Thom (founder of Marathon Tours) hosted a Q&A about the marathon and we had the opportunity to hear more about the rest of the trip. 
Tuesday, March 12: We woke up to pouring rain in Buenos Aires. We had planned to take the 8 am ferry to Uruguay,  but due to the rain, we decided to wait a bit. Instead, we went for a run first, ate breakfast, then caught the noon ferry to Uruguay.
On the hour long ferry ride, we hung out with a few runners from the trip who had the same idea for the day as we did, (Kyle from Tampa and Mark from Canada). Had we had more time, it would have been fun to take a different ferry to Montevideo, but Colonia del Sacramento was more doable for a day trip.
The rain did let up and we ended up with a great afternoon exploring the charming town of Colonia del Sacramento, which happens to be a UNESCO Heritage Site.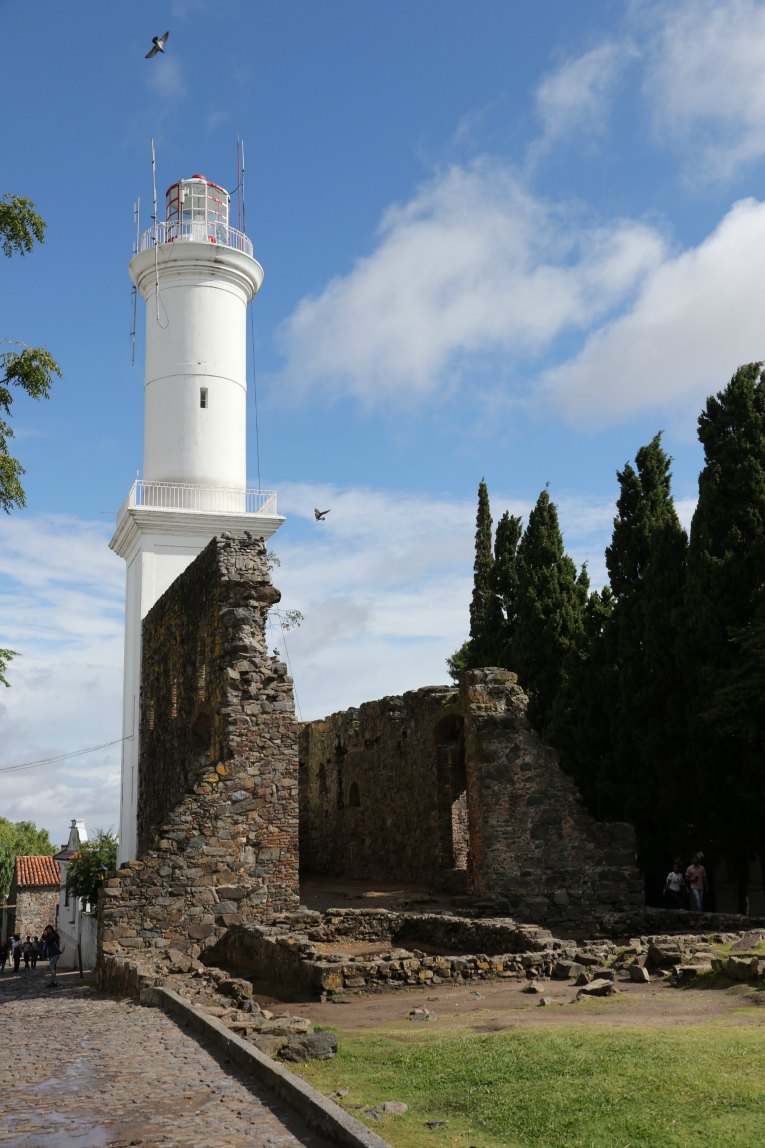 Though the tour of Colonia was a bit short, it was still nice to at least get a little taste of Uruguay. And another stamp on the passport! 
That evening, we had dinner at Pizzeria Guerrin in Buenos Aires to get a taste of Argentina pizza.
"Pizzeria Güerrín: The wood-fired oven hasn't shut off since El Güerrin first opened in 1932. True aficionados will skip the dining room and brush elbows with locals, who eat pizza while standing in the front bar."
Wednesday, March 13: By this point, we had found out that our 4:30 am flight to Ushuaia had been cancelled because it was on a 737 plane. We were rebooked on a 3:30 pm flight, which meant we had the morning free for one last Buenos Aires run. 
Checking into the flight to Ushuaia was a bit stressful because we had been told our suitcases could be up to 44 pounds, and the gate attendant weighed both of ours and said they were 18 kilos, even though the scale read 14 kilos. He claimed the scale was broken and we'd have to go wait  in another line and pay $15/bag to check our bags. Waiting in that other line took forever, but eventually we got everything sorted out and were on the flight to Ushuaia!
I plan to share a full post full of all the pictures from Antarctica; we were on the boat for a full TEN days! It was amazing.
Then, on March 23rd, the boat returned to Ushuaia, Argentina, and we made the return flight to Buenos Aires.
Rather than travel straight through to Minneapolis, we added on an optional night at the Alvear Icon in Buenos Aires to sleep in a regular bed (i.e. not the tiny one on the boat!) and explore a bit more of Buenos Aires before the long trek home on Sunday.
We weren't able to check into our hotel right away, but we were able to use the gym/spa, so we decided to go for a quick run:
Saturday evening we stopped by Floreria Atlantico for a cocktail; this place is ranked as one of the 'best bars in the world.'
You enter through a flower shop and then go through a freezer door to the basement where the bar is located. Very cool! (Thanks Elayne and Sarah for the recommendation!)
Our flight on Sunday from Buenos Aires to Atlanta didn't leave until 8:15 pm, so we basically had all day Sunday to continue to explore. That Sunday ended up being our favorite day in Buenos Aires!
We went for a 5 mile run through the Ecological Park again- ran into this guy!
There was a 10k race going on in the neighborhood as well.  I wish we had known about it as we could have jumped in for another international race experience!
The rest of the afternoon was spent exploring the amazing San Telmo Sunday fair:
"The Feria de San Telmo is one of the most notable and popular events that takes place in Buenos Aires. Nestled in one of the oldest neighborhoods in Buenos Aires, the San Telmo Fair is bustling with unique artisans and antiques every Sunday from about 10am to 4pm (depending on the season and the weather). Perhaps its greatest qualities, besides the architecturally beautiful neighborhood which it calls home, are its exclusive goods and reliable nature. Never a Sunday will there be without tourists pouring into the cobblestone streets of San Telmo for one of a kind antiques, trinkets, art, tango and delicious food."
We had an awesome time wandering through the fair, stopping for empanadas and souvenirs.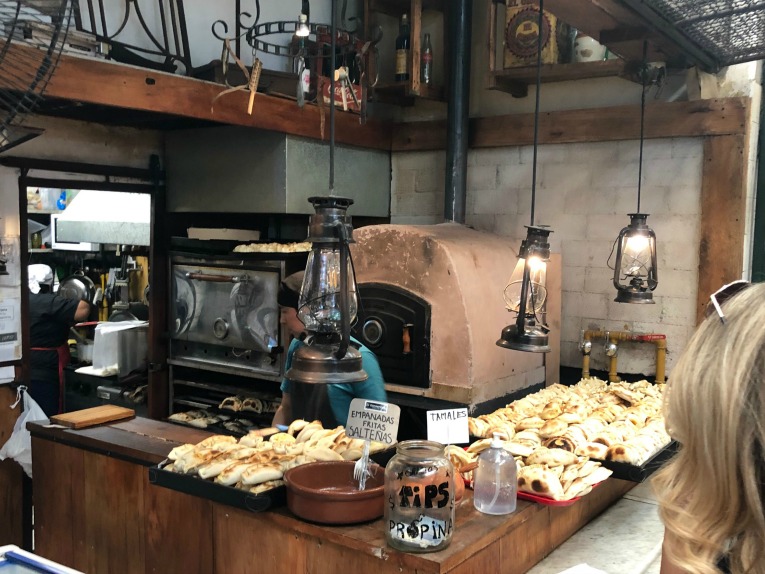 We also had the opportunity to try choripán, or chori for short, which is often touted as the unofficial national dish consisting of Argentine sausage on bread.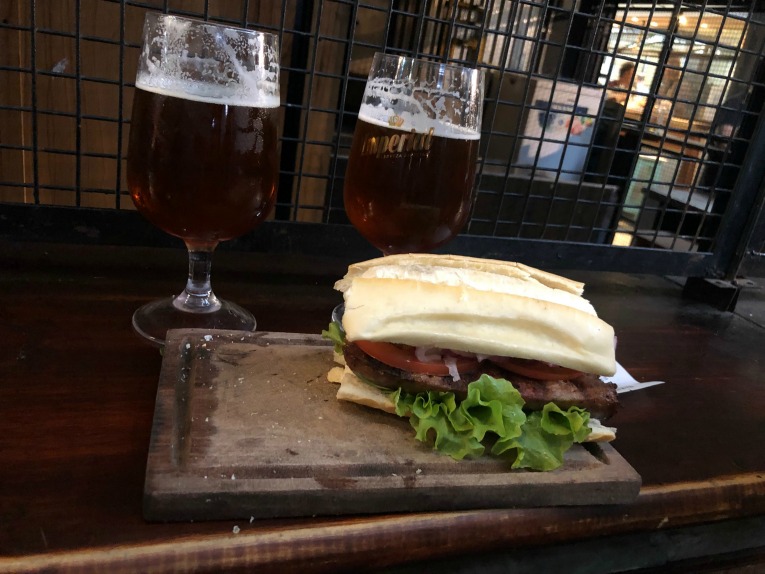 We ordered it at La Choripaneria and it was delicious!
Eventually we went back to the hotel where we were able to hang out at the pool a little before showering and heading to the airport for the overnight flight back to Minneapolis.
That wraps up my recap of the non-Antarctica parts of this trip to Antarctica.
Stay tuned for a few posts with ALL THE PICTURES of Antarctica! And be sure to check out my Antarctica Marathon recap HERE as well!
(Visited 478 time, 1 visit today)