Another week, another weekly recap!
If you're new here, I'm building back to marathon shape after 5 months off due to a broken tibia and fibula, with hopes of running my 30th marathon in Houston, Texas next January (followed by a 'redo' of the Antarctica marathon & trip in March that I missed this year due to my injury and ensuing surgery!)
Here's how this past week went in fitness!
Monday: 50 minute circuit HIIT class at ALTR 
They have the tastiest nitro cold press on tap for post-workout caffeine on my way to work!
Tuesday: Easy 5.5 mile run with my friend Nordica (9:30 min/mile pace).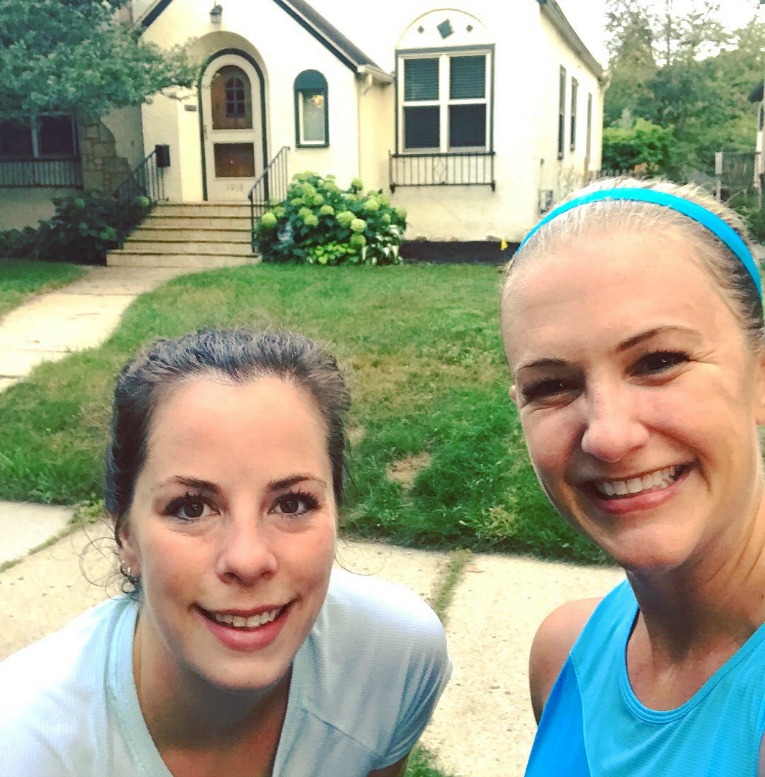 She and I hadn't run together since January 7th, long before the broken leg, back when I was training for the Antarctica Marathon.
We already have plans to run together again next week, and more importantly, she's heading to Houston to run in 23 weeks with me, (she's doing the half marathon.) Can't wait!
Wednesday: 6 miles with my friend Vicki before work. 9:07 min/mile pace. We had a few faster miles (8:35 & then 8:18) during the run as part of her training for the TC 10 mile and I think it was a bit too much for my ankle; I was limping a little the rest of the day. It seems that running at any harder effort seems to cause pain. It's not bone pain, but rather muscle or tendon pain that seems to pop up when I push it a little harder. I'm guessing the leg isn't strong enough yet- time to keep doing those PT exercises. On that note, it has been while since I had a PT appointment;I have one this week, so hopefully that will help stay on top of any potential issues now that I'm running more again.
Thursday: 50 minute circuit class at ALTR. Since my ankle was pretty sore after Wednesday's run, I moved some things around on my schedule to use Thursday as a non-running day. ALTR was a better choice and my leg felt better after a day off.
I actually had a follow-up appointment at TRIA with my surgeon Thursday night; I had to leave work 'early' around 5:15 to make the trek across town (ugh, the traffic with 35W closed is terrible!) to make it for a 6:15 appointment.
I swear the surgeon told me after my last appointment that he wanted me to come in for more x-rays before I really ramp up with running, so I made the appointment for Thursday after work and no one told me I didn't need it. But then I got there and he said he didn't need to see me for another 2-3 months. Ugh, what a waste of time (and effort to get there)!  He did still take a look at my leg and didn't seem to have any concerns.
He said he'd love for me to come back in after Antarctica so he can hear about it. Ha! Sure thing, Mr. Surgeon 🙂
Friday: 4 super easy miles after work in the heat. I took this run really easy because I knew I'd be turning around for a long run the next morning, plus it was super hot. I remember why I prefer to run before work! 10 min/mile pace.
Saturday: 9.34 miles with my friend Vicki. It was very hot and humid, but I felt pretty good and my ankle didn't bother me much. Unfortunately my beautiful Fenix 5s completely died on me! With the price I paid for it, I was really disappointed that it had technical difficulties.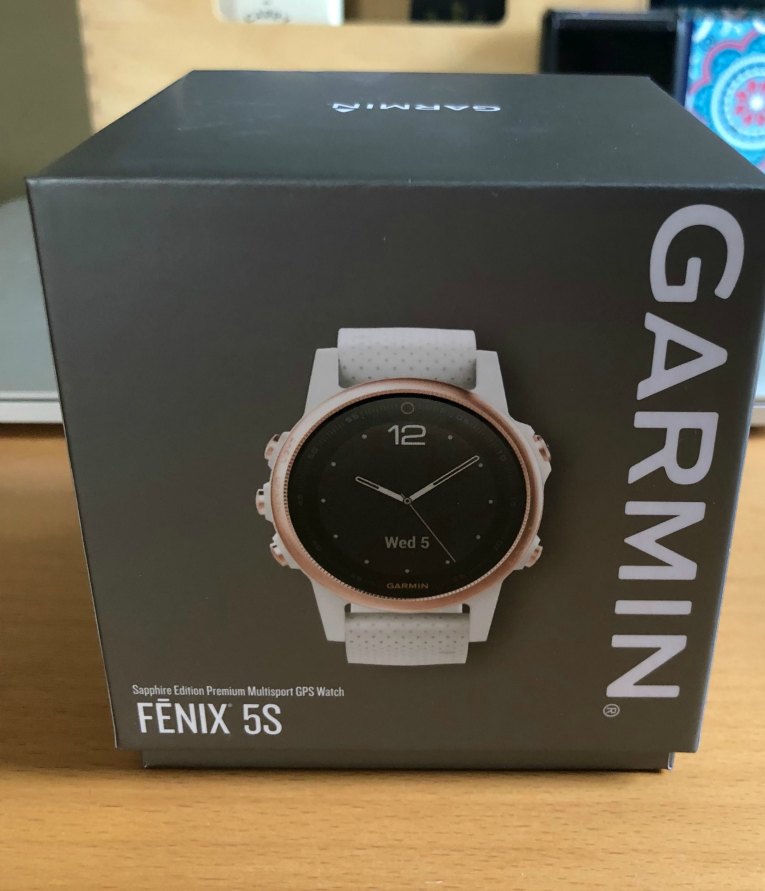 I was able to return it to R.E.I. but they no longer carry that Garmin. So I'm using Dustin's old Garmin 220 until I figure out what I'm going to do. So sad though, as that Fenix 5s was my 'pity present' during my injury, and it wasn't cheap, so it's a bummer that it didn't work out.
Anyways, after the run, I went to Cryotherapy for a 2:30 minute freeze. Felt great!
After cryotherapy, Dustin and I had a scrumptious brunch at Martina (newish place in our neighborhood.)
After brunch, it was time to provide Tilda with some fun and exercise; we took her to the Minnehaha dog park by the river. She had a blast.
On our way home, we decided to stop by Venn Brewery for a quick pint. Matilda was pooped by then!
Vizslas are often called "velcro dogs" and Matilda definitely is; she always wants to sit in my lap.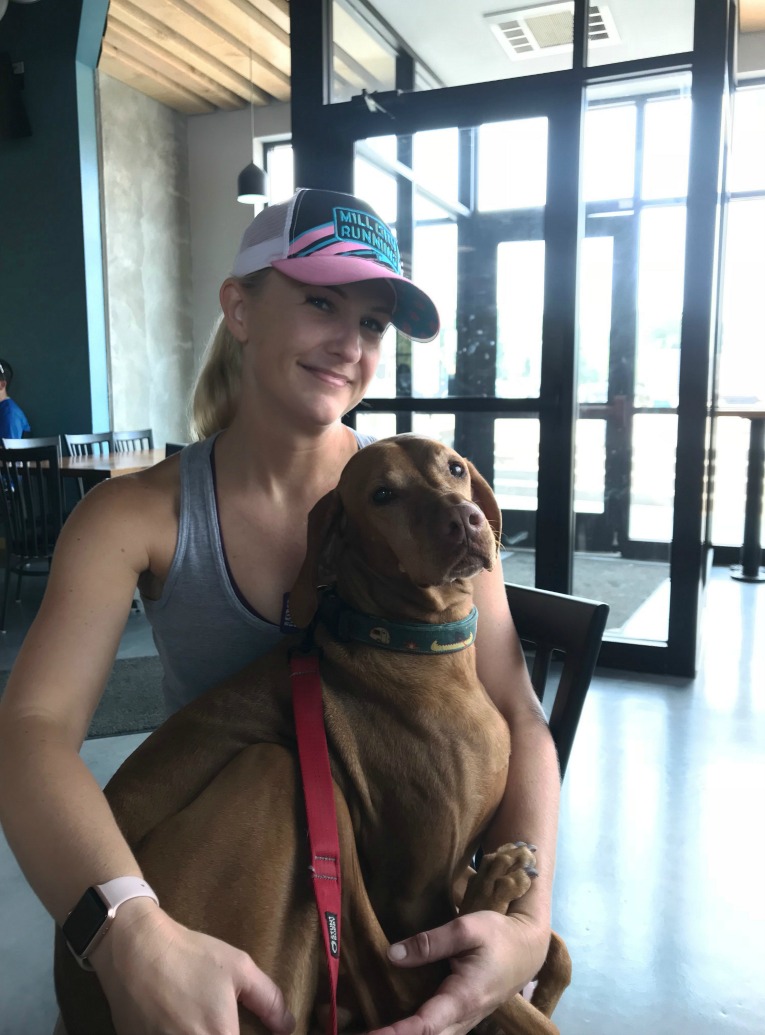 Later Saturday night we had dinner at Esker Grove at the Walker, which was awesome. We sat outside and it was such a beautiful summer night. The patio there had a great view of the sculpture garden and there was one of those pop-up white parties going on there- it looked like a blast!
Sunday: 5.5 mile run with Dustin and Matilda. It was a bit too hot for Tilda (our dog) so we took lots of water breaks for her along the way.
Summary:  About 30 miles of running, two ALTR classes.
In other news, I decided to sign up for the Oiselle Volee this week; I know a couple of girls on the Minnesota flock and thought it would be fun to try it out. It's $100 to join; it terms of apparel, you get a custom singlet right away as part of the team and $20 off of your choice of bottoms and then first pick on new product and occasional discounts, as well as free shipping on all orders. Being a member of the Volee also gives you access to a supportive community of runners, Bird Camp (running camp), and more. I'm really looking forward to expanding my running community with a new group of runners, especially for support during this time of recovery.
I'm excited to be a part of the flock! Any Volee readers? Let me know!
I'm linking up as always with HoHo Runs and Taking the Long Way Home for their weekly wrap. Check it out!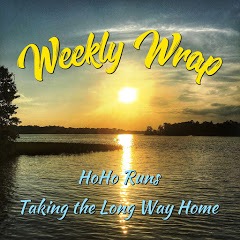 (Visited 387 time, 1 visit today)