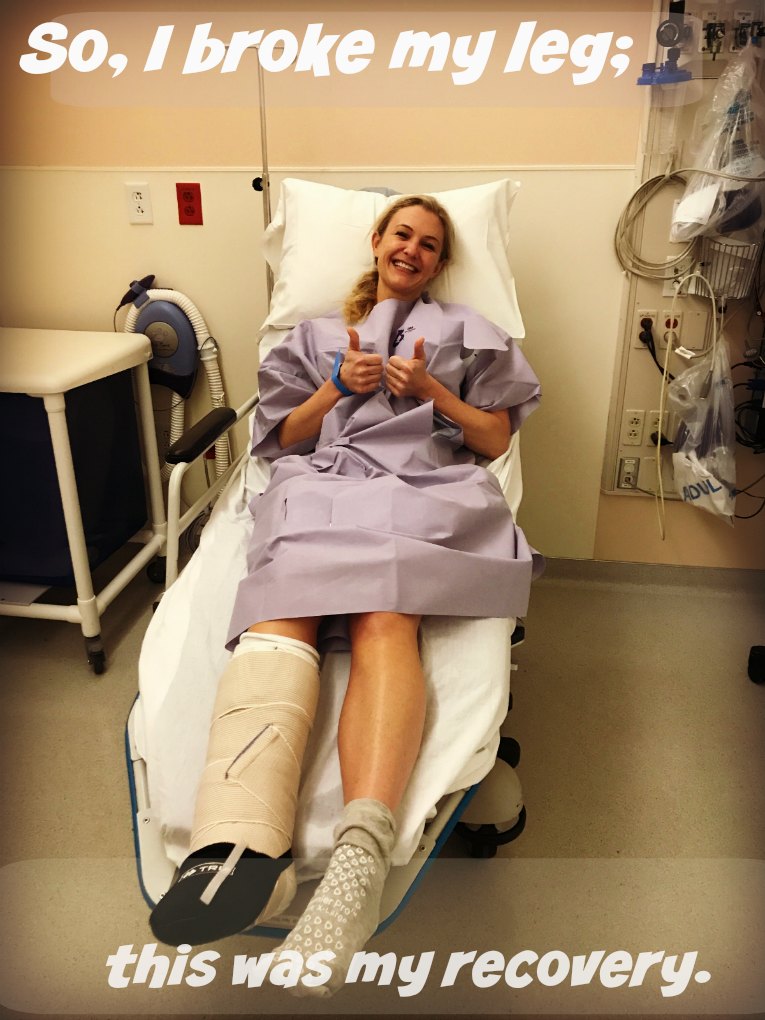 On February 16th, my life as I knew it changed drastically (so dramatic, but it's true!); I was three weeks out from the Antarctica Marathon. I was running 60-70 miles a week; running was a huge part of my life. In some ways, running WAS my life.
But then, I took a terrible fall on a 20 mile run and broke my tibia and fibula. Running was no longer a part of my life. Antarctica was off the table.
Now, 17 weeks later, I have finally been cleared to start to run again. I thought this was an appropriate time to reflect back on my recovery and how I got from there to here.
The break: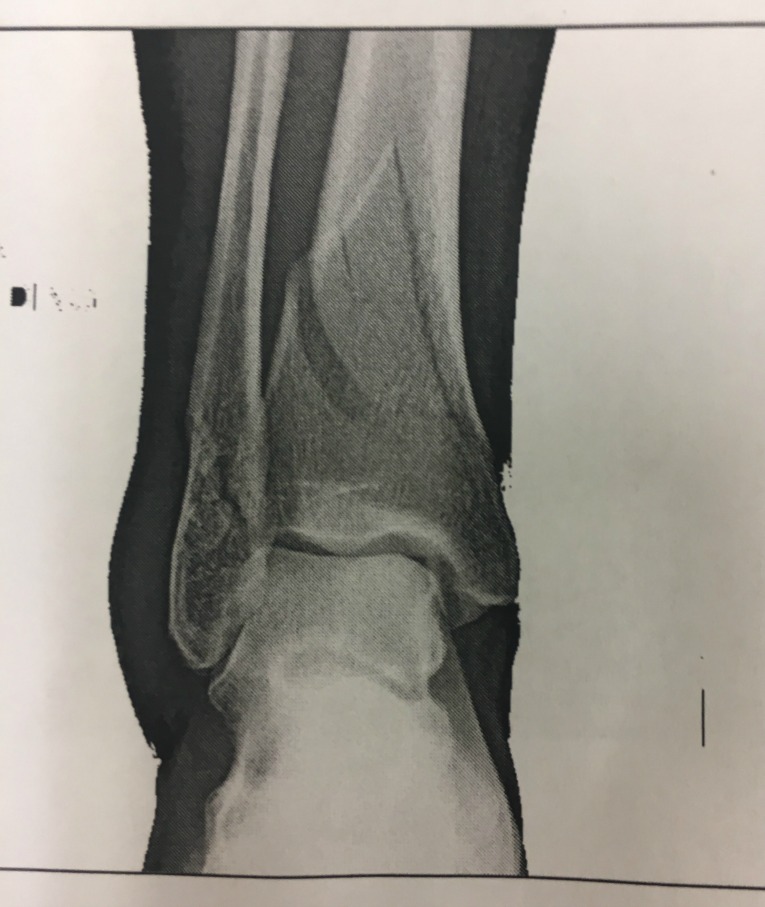 Week 1. No activity. So much pain.
(Pictured below- my sister Cresta cutting me out of my favorite Oiselle running tights at Urgent Care. And yes, the great people of Oiselle sent me a replacement pair! Swoon.)
I happened to break my leg the weekend of President Day's, so I had a long weekend to deal; I had lots of appointments that Monday to prep for surgery (appointment at TRIA with the surgeon, appointment for an MRI, and a general pre-op physical.)
I worked (at my day job in an office) the week between the break and surgery, which in hindsight was pretty stupid, as I was in a lot of pain and was really tired from not sleeping well due to the pain.
At the end of each day, I almost always ended up in tears- frustrated tears, pained tears, sad tears, disappointed tears, just plain ol' exhausted tears.
Week 1? It really sucked. I know this week was hard for Dustin (my husband) too as he was a bit lost on how to make me feel better, even though he really wanted to….
Week 2: Surgery. 10 screws and 1 plate are now part of my ankle. The bionic ankle.
I purchased a new set of hand weights and started doing upper body workouts that I found on youtube; I needed to do something to be active and feel normal, but this was all that I could safely do. So I did it ad nauseam. For at least 45 minutes a day. That's a lot of reps. I did leg lefts and "couch crunches" and just tried to find ways to move, albeit minimally. I was still in a lot of pain.
There were some dark days in the first two weeks. Read this post to get an idea of where I was. I couldn't take care of myself. I needed Dustin's assistance just to shower. It was very hard.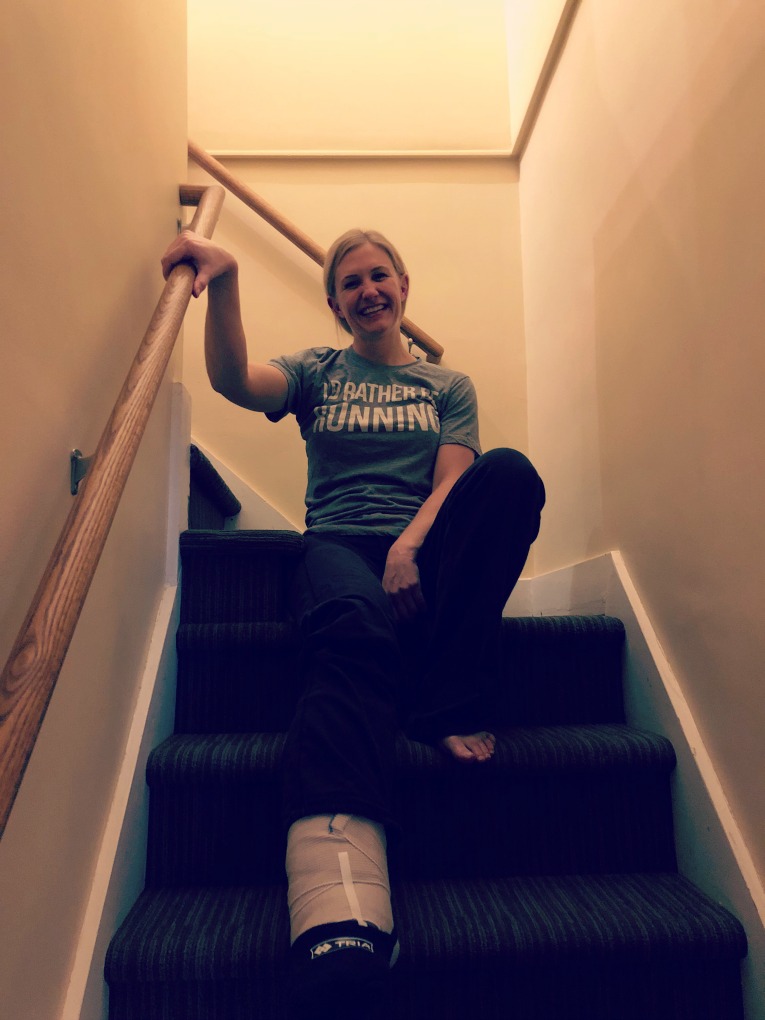 Week 3: My stitches were removed. Gnarly, right?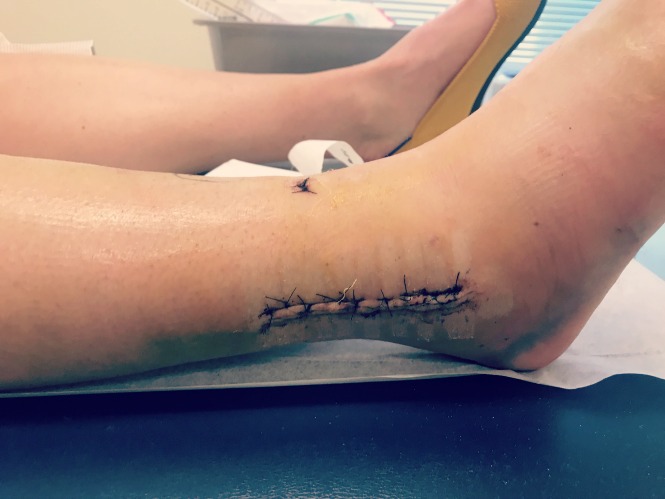 I started using the scooter to get around instead of crutches. I discovered Northeast Fitness, where I took Crank Cycle classes.
Of course, I had to have someone take me to Northeast Fitness because I couldn't drive: Dustin, my friend Christie, my sister Cresta, anyone who was willing to be a good friend! Once there, they would have to carry the scooter up the non-handicap accessible staircase and then help me scoot my butt up the stairs. Fun times.
Crank Cycle was interesting. It felt good to move, however minimal the movement was.
Week 4: More crank cycling, more upper body hand weights.  And a lot of depression about missing Antarctica and missing running. I was not a pleasant person to be around during this time. Dustin was (and is) a patient man.
Week 5:  4 weeks post surgery, I got cleared to swim! Game changer. This was a turning point in my recovery. Swimming became my savior of sorts. I was also able to shower like a normal person, which was pretty awesome.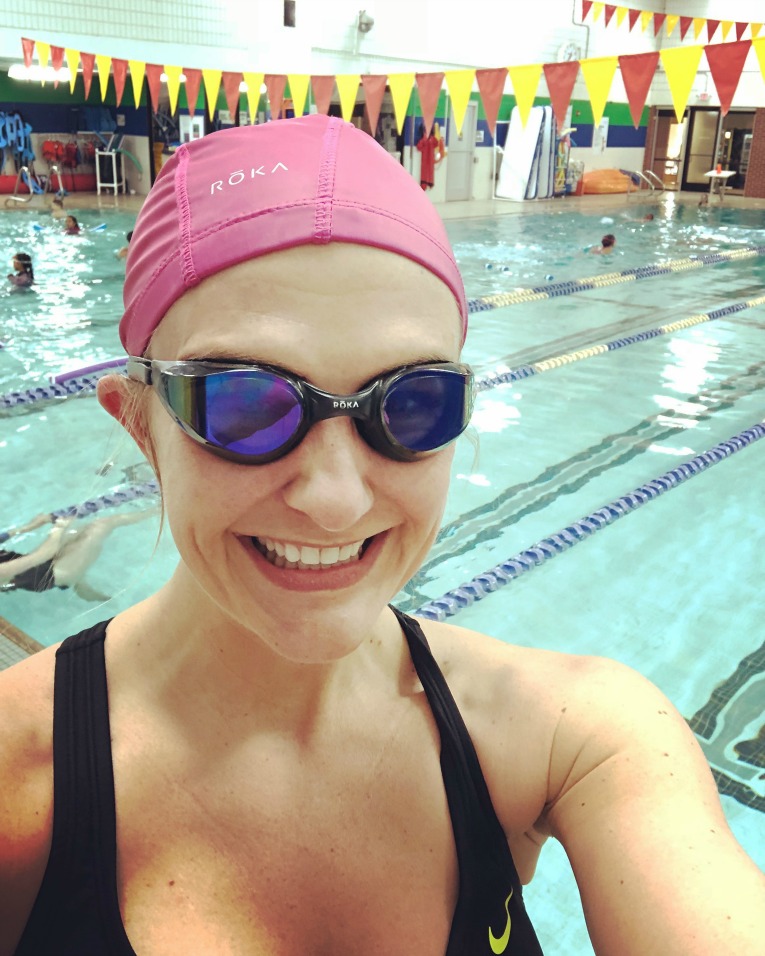 I was also cleared to start weight bearing (in the boot), at least a little bit.
It felt SO SO weird the first few days to walk on my leg, but it made life so much easier. I regained a modicum of independence. I was able to take care of my self (to an extent. No driving, couldn't get anywhere very far by walking, but better than before.)
And I got a pedicure!
(Look at that fat foot…)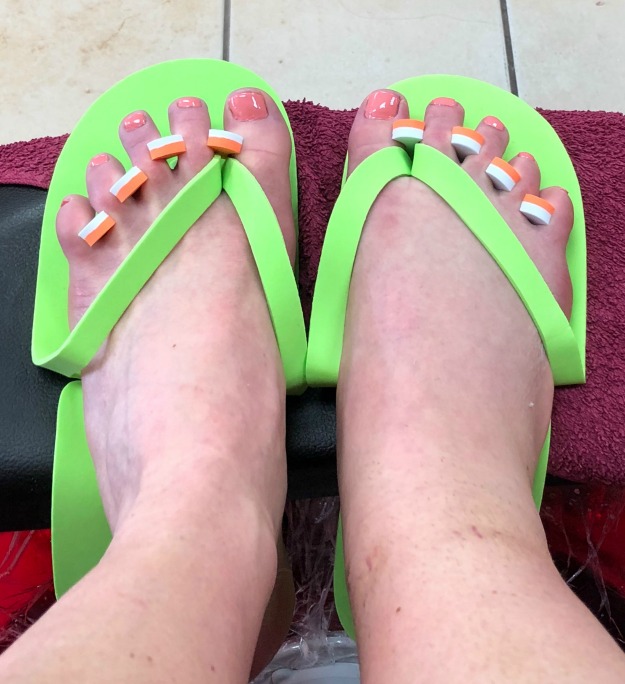 I started doing personal training sessions with my friend Ericka of EDK Training.  She created customized workouts based on what I was able to do during my recovery. She is awesome.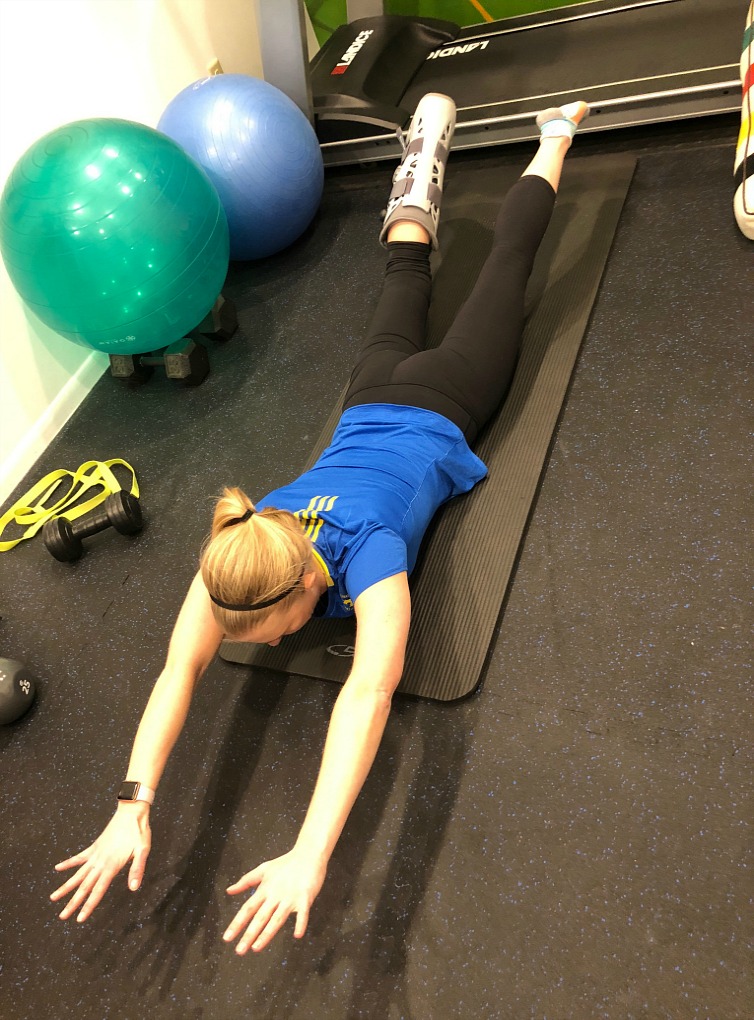 I took more crank cycle classes, and even was able to do a class that was a barre/pilates mix at Northeast Fitness, (which only worked because I was cleared to bear some weight on the leg. I was able to modify most of the moves to work for my condition and get in a workout.)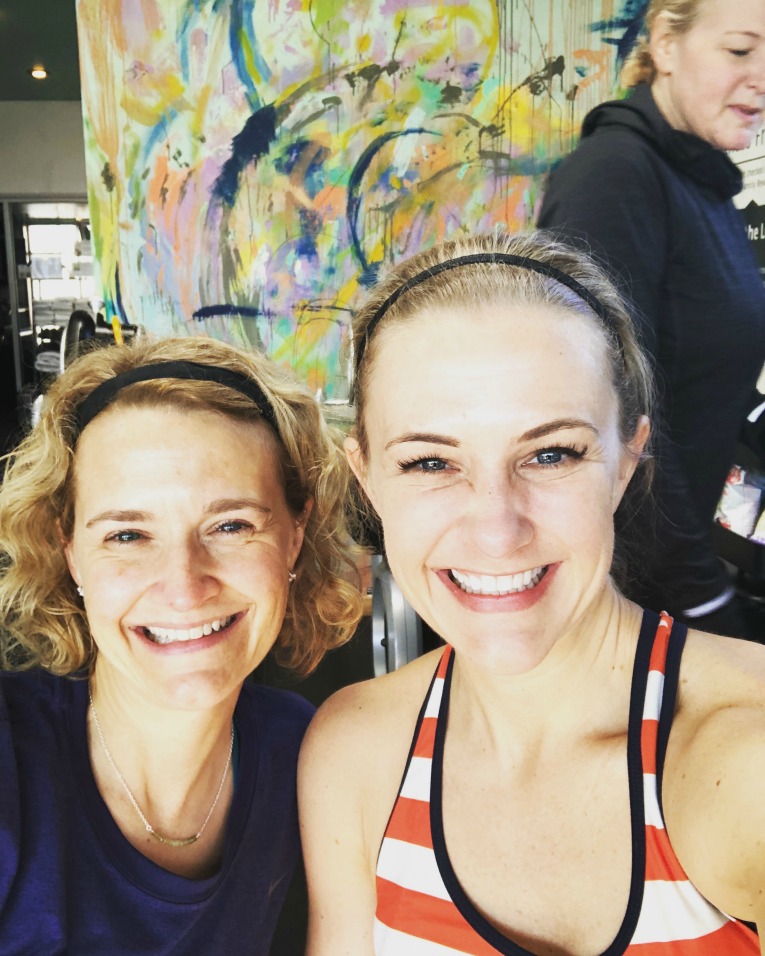 It was also around this time that I could reflect on the first few weeks and actually feel like I had learned something. Here's a post of 10 Things I Learned From a Broken Leg.
Week 6: I started physical therapy at Mayo Sports Clinic downtown- another game changer!
I can't say enough great things about Chris Fjosne and Allison Mumbleau at Mayo; they are both absolutely fantastic.
I also continued to work with Ericka for personal training once a week.
I was able to start incorporating biking in for a little cardio.
I started going to Halo Cryotherapy to "ice" my leg.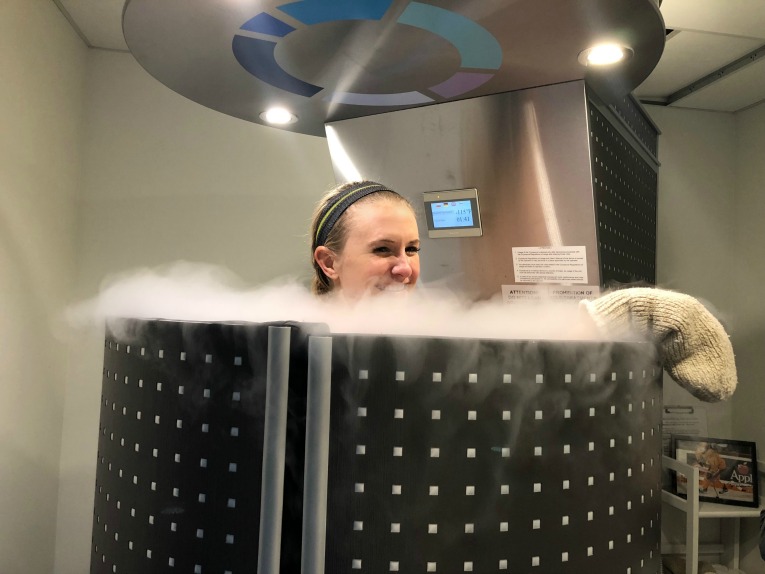 Still lots of swimming- lots and lots of swimming!
Week 7: I added yoga into the mix!

I had to modify A LOT in the beginning with yoga, but I loved taking heated classes and breaking a sweat. It felt great.
I started taking swimming lessons at the YWCA with Jordan. I figured I was doing so much swimming, I might as well become good at it!
I rented the Game Ready Ice/Compression machine from Mayo, which was an awesome way to ice at the end of every day.
I started walking with the boot off for little bits of time…not much. The majority of the day, the boot was still needed, but at least I was making progress.


Week 8: I took a Soul Cycle class in NYC, though I wasn't able to do a lot of it as it was mostly "out-of-the-saddle" standing work.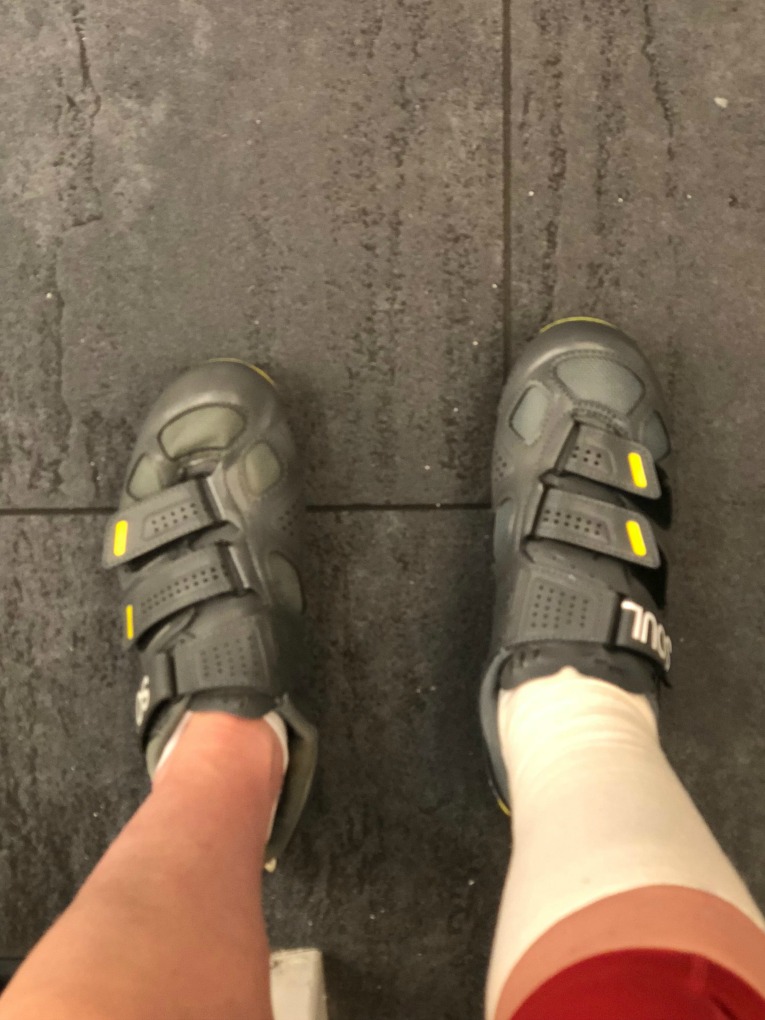 I spent a week in NYC for work and was on my feet way too much, and I kind of felt like I was set back a bit by the time I returned in terms of recovery. A step back just meant I had to work a little harder to take a step forward again.
Week 9:  I was cleared to drive! Woo-hoo! Independence! I started taking the bus again too, though I was still in the boot and the walk from my bus stop to the office was pushing it just a little bit, but doable. (If you're confused how I could drive but was still in the boot, I could take it off to drive.)
I starting taking solidcore classes again; I had to modify, but I was able to get in a pretty 'solid' workout! Since I had had luck with Soul Cycle, I started spinning at Surge Cycle locally.
And I dragged my sister along too, of course. 🙂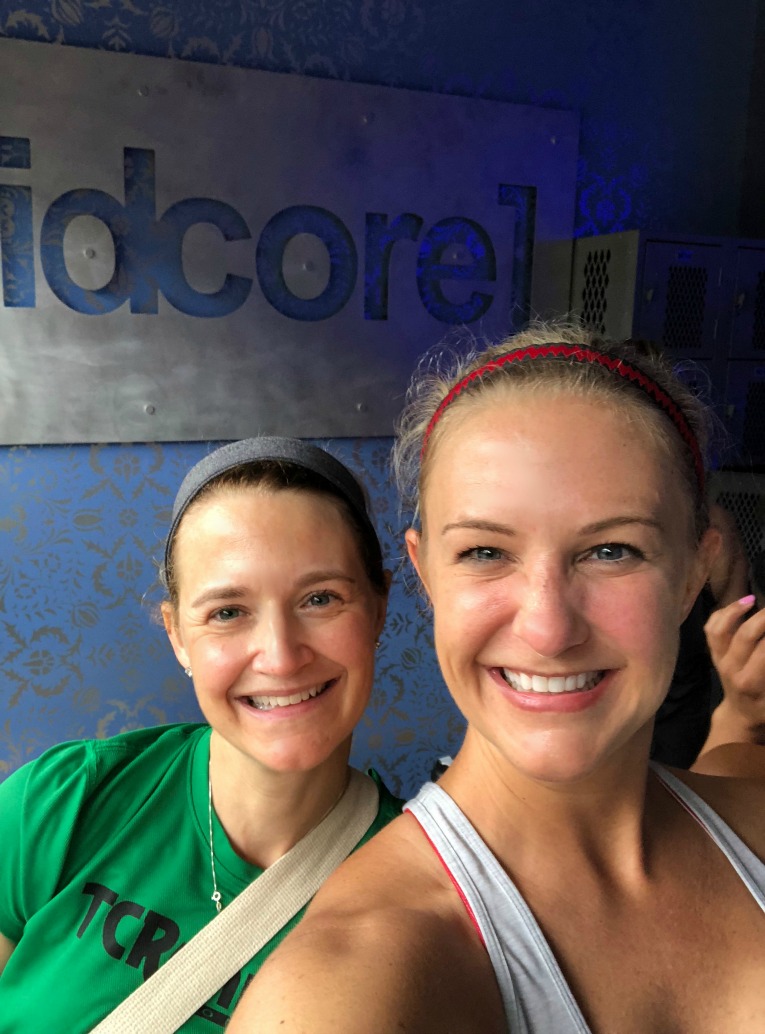 Week 10: Cleared from the boot. CELEBRATION!!! No more boot! AMAZING.
It felt so good to throw that thing away.
(Okay, that's a lie. I didn't throw it away. I put it above the garage with two other boots from previous injuries. It was a metaphorical "throw-away.")
I still limped a bit, (sometimes I still do) but I regained more regular mobility quickly once out of the boot.
Dustin and I took a trip to Palm Springs and I did ALL the outdoor swimming that I could. I was sad not to be able to run-explore with him, but I fully enjoyed the outdoor pooling swimming.
Week 11: All the PT, all the spin, all the solidcore.
Week 12: I was able to comfortably walk Matilda (our dog) again!
Week 13: I started "running" on the Alter-G (zero gravity) treadmill.
Week 14: Week 2 of the Alter-G. Higher % of my weight, longer duration.
All the PT, all the elliptical, solidcore, swimming, spinning, anything and everything I could do.
 Week 15: Week 3 of the Alter-G. I completed 3 miles on it (2 minutes on/ 1 minute off)
Week 16: My first run at 100% of my weight, on the Alter-G. 2 minutes on/1 minute off. I covered 3 miles again.
Week 17: Here we are. My surgeon cleared me to return to run (slowly, slowly, slowly). I need to be cautious about returning safely. I'm following what feels like a "couch to 5k" program to get me back to 30 minutes of straight running in hopefully a few weeks.
This is not yet a comeback story. This is still an 'in-progress story.'  I'm not the athlete I was before; I'm carrying 20 extra pounds that I didn't have four months ago. Yes, 20. I know it's tough to talk about weight on a fitness blog, but it is a truth about my recovery journey that isn't that much fun; 90% of my work and fitness clothes don't fit anymore; an expensive injury for my closet!
I have a long way to go to get back to where I was, not just the extra pounds, but the cardio, the endurance, the strength; I feel like I'm starting from scratch even though I did so much during my recovery.
There's nothing like running.
Fully recovered? No. Mentally I still feel like a part of me is missing. Or just different I guess. I've started to fill the void again, minute by minute.
Physically, I don't think I'll consider myself fully recovered until I am back to running at least regularly and somewhere near the same level that I was pre-injury, and that could be a few more months.
But I'm running.
17 weeks after a (very) traumatic injury, I almost feel normal. I almost don't think about my broken leg anymore, which is pretty amazing when I feel like it was nearly all I thought about for such a long time.
I am grateful that I had access to so many different fitness options here in Minneapolis. I am grateful that I had access to such great doctors and physical therapists as well.
Mostly, I am grateful to the friends and family who helped me stay active, that helped me stay sane, that helped me get through this- thank you SO much.
And a special thank you to this guy- through sickness and health, i.e. broken tib/fib!
It was truly a long winter. But it's behind me now.
I hope that this will be a running blog again soon. I appreciate those of you who stuck around to follow my recovery; I know that I wasn't always the most positive person here but I've tried to be honest with you about what this injury and recovery was really like and I hope that honesty has been valuable.
If you found my blog because you are also injured, here are my tips:
Try to stay positive, but let yourself grieve the loss of running. It's real and it sucks.
Then stay as active as you can. Do the physical therapy exercises. Make time for the appointments and the PT. Stay focused.
But also…go easy on yourself.  It will get better. It does get better. Progress will happen and when it does, celebrate each tiny step forward, especially celebrate the step forward that is in a running shoe.
(Visited 11,504 time, 1 visit today)