Guess what arrived this week? My Boston Marathon "runner's passport."
Sh*t's getting real. Only three weeks until the race; I'm definitely getting excited.
Here's how training went this past week:
Monday: 8 mile recovery run at a 9:09 min/mile average pace.
Tuesday: Long morning tempo. 2 mile warm-up, 6 miles at a 7:30 pace, 2 mile cool-down.
Oh my gosh, it was SO windy. This workout felt impossible. My paces were slower than they were a few days earlier at the Hot Dash 10 mile race, but I just couldn't maintain it. I averaged closer to a 7:45 min/mile average during the tempo miles, with a few extra slow ones going into the wind- argh. So tough! 10 miles total at an 8:20 min/mile average.
That evening, I had a work dinner at Jun downtown. We have a visitor from Singapore and one from the Philippines in town who hadn't see downtown Minneapolis yet, so we took them out in the North Loop.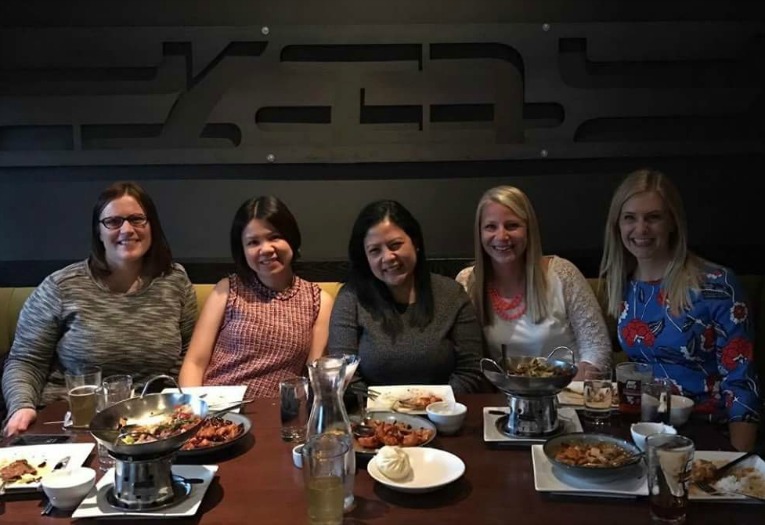 Food at Jun was tasty and a post-dinner drink at Parlour was fun.  (The Singapore colleague was the one who took me to her posh gym while I was in Singapore in 2015, read about it here.)
It was fun to connect with my team outside of the office.
Wednesday: 9 mile recovery run after work. I was tired from Tuesday's tempo (and staying out a little later at dinner), so I slept in instead and ran after work, around 7 pm. Nine miles of running made for a late night, but my kind husband took care of cooking dinner and exercising Matilda- (well..he does that a lot actually, what a guy 🙂 )
9 miles at a 9 min/mile average.
Thursday: 4 easy miles with Matilda before work at an 8:55 min/mile average.
Friday: 4 miles easy followed by 8×30 second strides to loosen up for Saturday's race.
5.4 miles total at an 8:50 min/mile.
Saturday: The O'Gara's Irish Run 8k race! This was the first race of my running club's USATF racing circuit. My coach had me treat it as a 5 mile tempo run- 2 miles to warmup, 5 miles at "tempo", 2 miles to cool down. 9 miles total.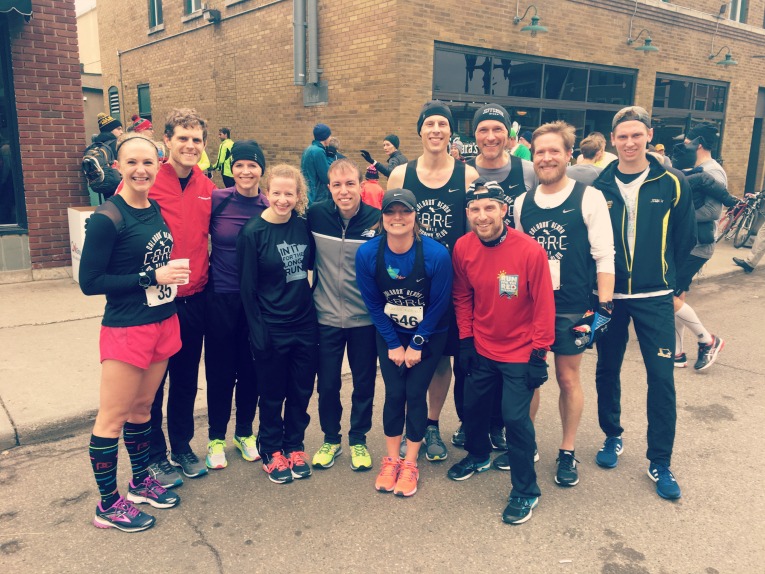 My time for the 8k was 36:42 or a 7:23 min/mile pace. (My 8k PR is actually at the Fast & Furry 8k that I did with Matilda last year, with a time of 36:16, or a pace of 7:18. Of course, I had Dustin running with me at that one and it was a flatter course- I always run faster with him as my pacer!)
This was a really cool low-key runner's race; so many fast runners out there. No SWAG, just a race for runners.
A great vibe- I love races like this one! I also love the "team" aspect of this USATF circuit. It's fun to get a little bit of that, since running is generally a bit more of a solo sport.
Post-race, several of my run club friends went to the Grand Avenue location of Colossal Cafe for some pancakes. I had an egg "sandwich" where the sandwich part was a pancake. SO good.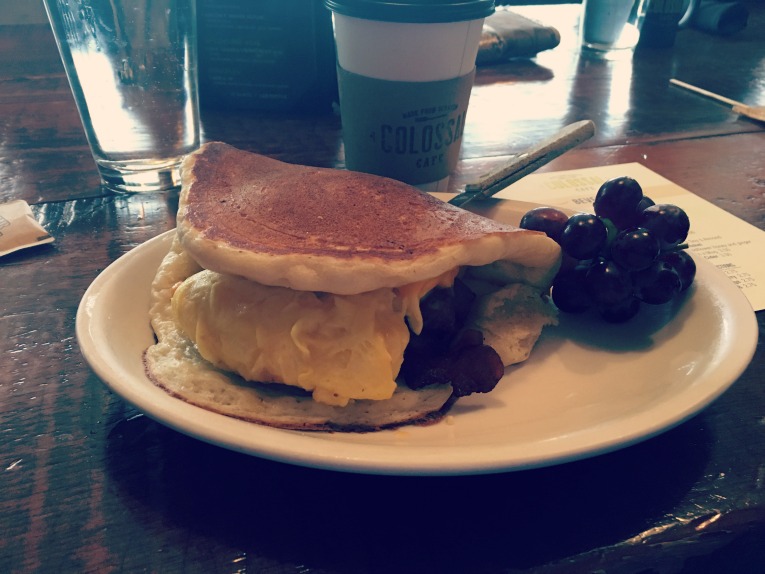 That evening, a friend of ours hosted a little house party with a "High School" theme- i.e. dress in either what you wore in high school, or as something one would be voted to be, (i.e. class clown, most likely to succeed, etc.)
Dustin wore his cross country tracksuit from high school (Yep, he still has it). I went as "Best Dressed- Class of '94."
I didn't go to Edina High School, or get voted Best Dressed, OR graduate in '94 (though Dustin did graduate that year) but I tried my best to channel a look of a 1994 high schooler.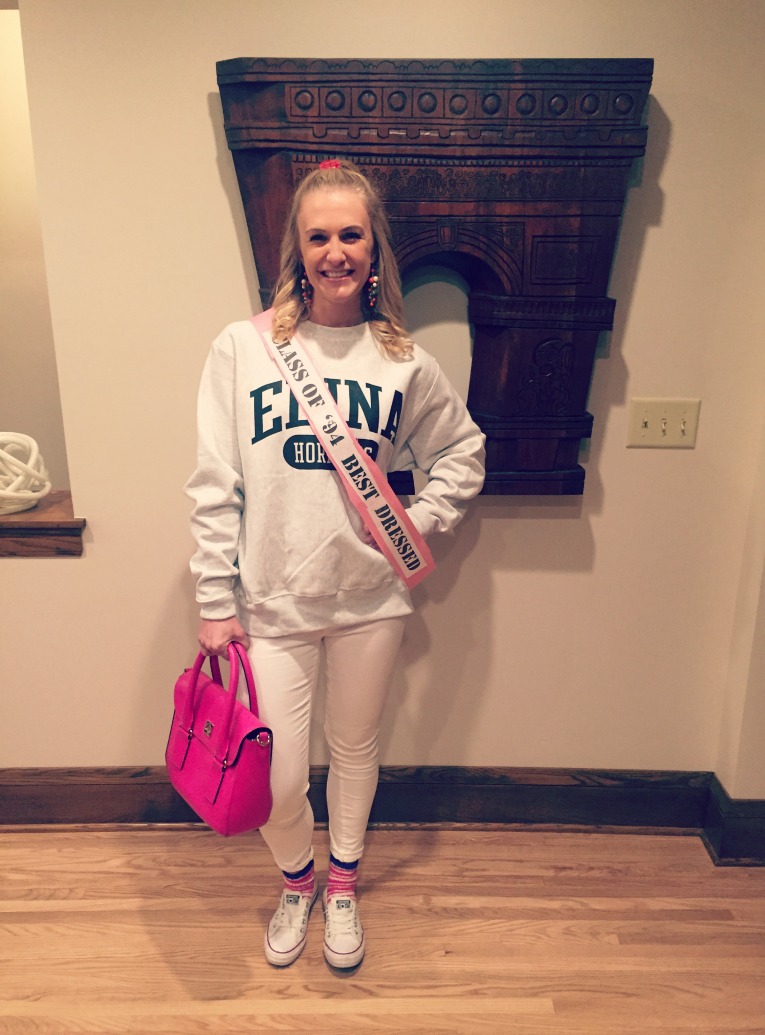 We couldn't stay very long at the party though, as we had a long run to do on Sunday morning.
Sunday: Since I did the race on Saturday, my long run was moved to Sunday. Fortunately there were a few of my running club friends in the same boat who joined me for 14 of the 22. And then in the last few miles of the 22, I ran into Dustin, who was out there doing his long run, so he joined me for the last bit. 22 miles at a 9 min/mile average.
Summary: 68 miles of running. No cross training (Boo…)
Fitness Fashion:
In fitness fashion, I am loving this new Sweaty Betty top, the Scandi Ski Seamless Long Sleeve, which is currently marked way down (Buy it here) It's meant to be a base layer for skiing, but I wore it as a running top and it was perfect. It performed very well on an 8 mile run in 35 degree temps. I'm wearing a small for reference.
I also purchased another pair of Allbirds, this time in a very springy yellow color:
These shoes were on my list of 5 best non-running shoes for runners. They are so cozy, cute, and machine washable! Just love them.
Anyways, I'm linking up with Jess at Jess Runs ATL for my weekly recap. Join us!

(Visited 795 time, 1 visit today)