I'm getting really excited for the London Marathon! We are sorting through the rest of our plans too, which include a short tour of Scotland. Can't wait!
As for training for the London Marathon? I wouldn't say I'm quite as excited about how that's going….read on to understand.
Monday: I ran with the Calhoun Beach Running Club after work. It was my first workout since Phoenix, which was 1200m repeats. My coach was easing me back into it, with what would have been an easier workout during peak Phoenix training, but what was a tough one for me this week. 1 mile to warm-up, 6x 1200m repeats at a 7:40 pace with 1 minute recovery in between, 1 mile to cool-down. 7.5 miles total.
Tuesday: 7 mile recovery run in the AM with a few run club friends, one of which mentioned stopping at Rustica Bakery afterwards for a coffee. Fantastic idea! That place is incredible.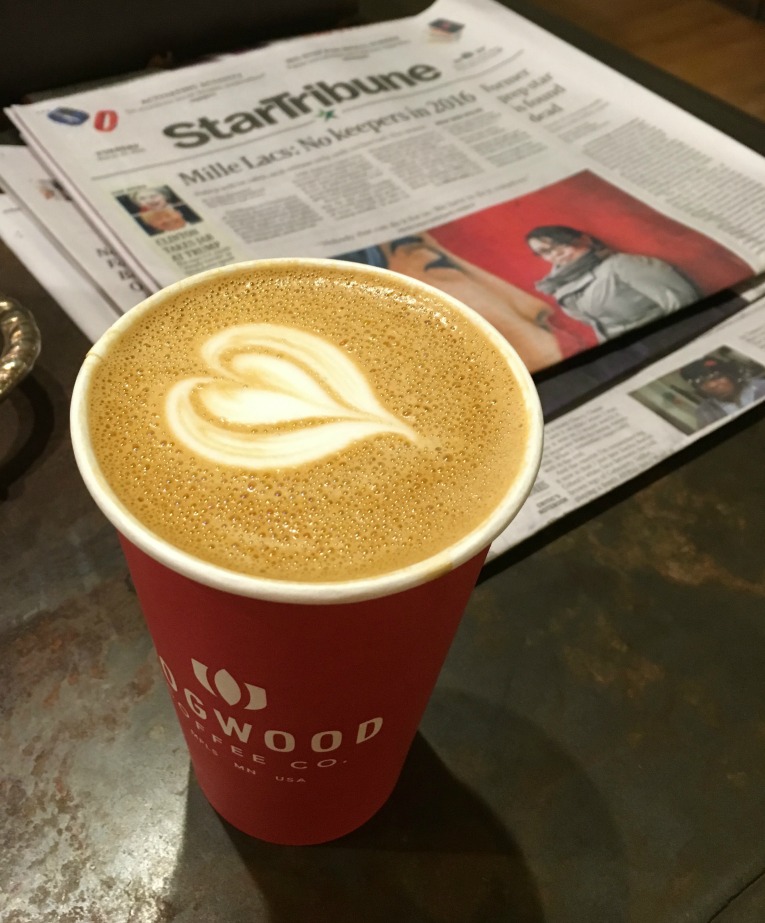 Wednesday: 5.75 mile recovery run in the AM with some run club friends. Another stop at Rustica! I see a bad habit forming…
Thursday: Another speed workout, this time just short sprints: 1 mile warm-up, 15x200m sprints, 1 mile cool-down, 6 miles total.
During this run, my shin started to really bug me. I called Orthology right away. They had a cancellation and were able to get me in that morning. I saw a new doctor there who really worked out my shin…so much so I was quite bruised afterwards! Sorry for the graphic photo, but it was pretty bad.

I trust that Orthology knows what they're doing, but man, I could barely walk afterwards.  I hope what they're doing is working. Ouch.
I did take a [solidcore] class after work, but only because its zero impact. I felt fine during the class, but knew better than to try to run on Friday.
Friday: No running! I was still really sore. Instead, I did 30 minutes pool-running, 30 minutes swimming laps, which felt great. I iced my shin a ton (yes, at work!) I was really nervous about my long run on Saturday…
Saturday: 14 mile long run, very easy pace. My shin did not feel good during the run and it felt pretty awful after the run.  I did a lot of icing afterwards. I was supposed to run on Sunday, but I opted out. I have to listen to my body and right now, its saying something's not right.
I have another appointment at Orthology on Wednesday. They are going to analyze my gait and try to understand why I'm suddenly having shin splints (i.e. medial tibial stress syndrome), when I've been running for ages and haven't changed anything. I realize how fortunate I've been injury wise and I hope to get back to running pain free soon.
On a more positive note, my friends hosted an Easter themed support stop for the long run on Saturday, complete with plastic eggs filled with jelly bellies and other candy. So cute!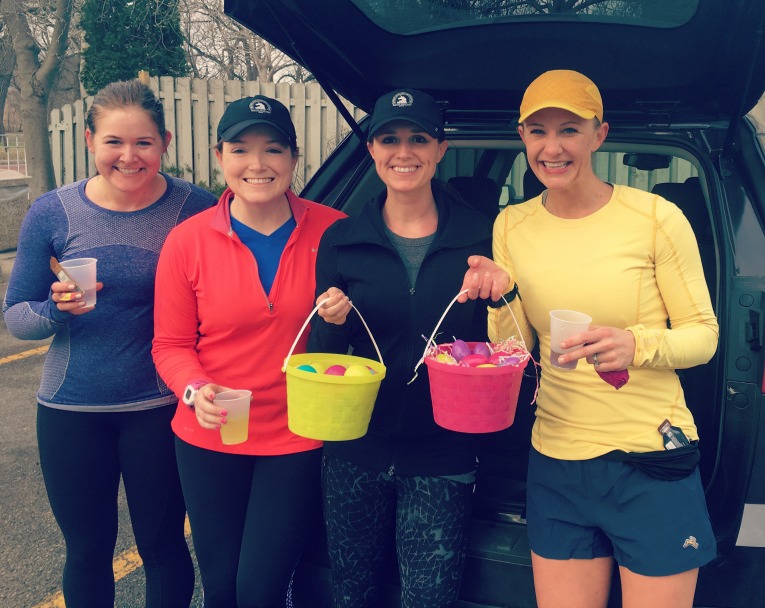 Another positive from the weekend was trying out Escape MSP. Have you heard of it? It's an escape game room. These rooms seem to be popping up across the US. My coworker recommended this as a fun evening and it was!
Our group of 10 did "Mr. Dupree's Office" which was advertised as the easiest room, but we found out afterwards that the success rate is actually currently the lowest for this one as they recently made some changes to make it harder. We didn't succeed in escaping during our allocated 60-minutes, but we were VERY close! Now that I understand the experience better, I really want to do one again. We will be back for one of the other two rooms at Escape MSP. (You can't do the same room twice.)

Sunday: 45 minute spin class at Surge Cycling, 50 minute [solidcore] class. Since I wasn't running, I thought I'd be okay doubling up on classes. Surge Cycling and solidcore are really close (location-wise) to each other and are 45 minutes and 50 minutes long each, so about 90 minutes of working out total. I probably wouldn't normally do both on the same day, but I had the time so I went for it.
Total: 40.25 miles of running, 1 spin class, 2 [solidcore] classes, 30 minutes of pool running, 30 minutes of swimming laps.
Training for the London Marathon has been and will continue to be a unique experience, with much less running and a lot more cross training. Stay tuned to see how that goes…
You guys seemed to enjoy a look into some of our home improvement projects, so here's another peek. The stairs to the basement had to be re-carpeted with the kitchen remodel.
"Before" picture of basement stairs:
We decided to go ahead and replace the carpet to the 2nd floor too.
"Before" picture of stairs to second floor:

I went with a darker carpet, as the off-white one we had before got really dingy. Lesson learned- never get anything white with 3 pets! We learned the lesson with our old white couch and with this old carpeting as well.
"After" stairs to the basement: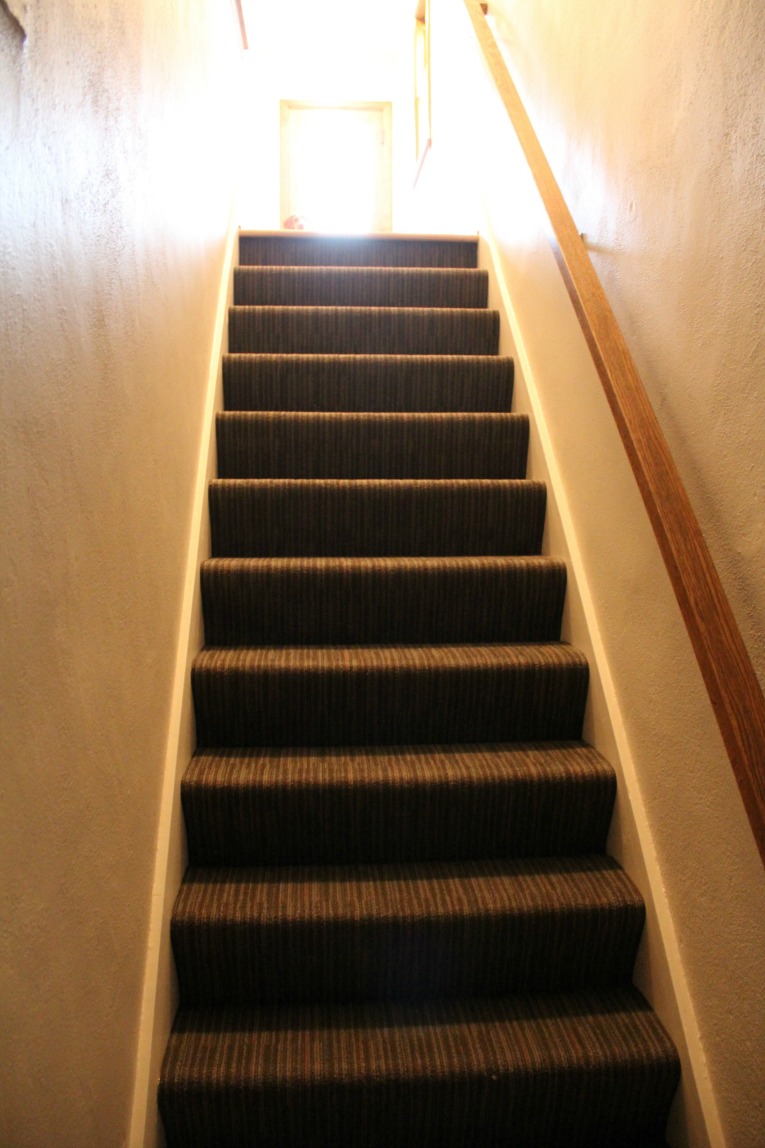 "After" stairs to the 2nd floor. Tilda isn't so sure what to think!

I like the way it turned out, though the "new carpet smell" is a little weird. Hopefully it fades quickly!
Have you had shin splints? Any tips? 
(Visited 608 time, 1 visit today)