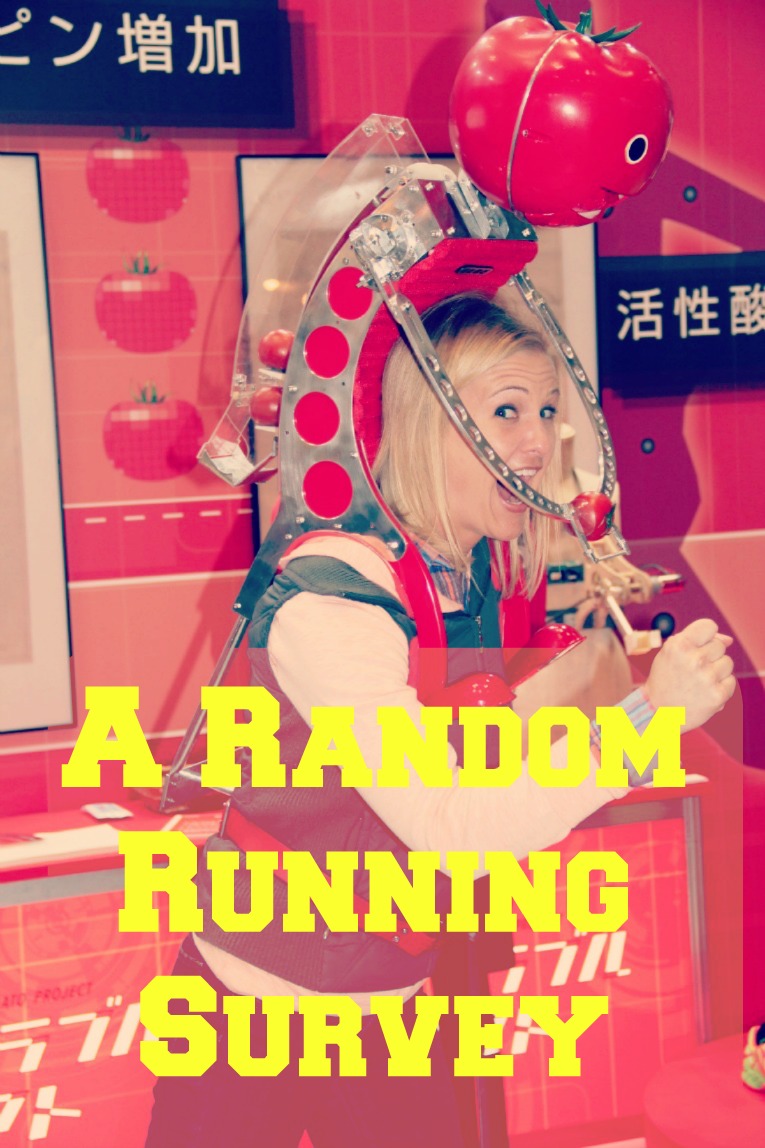 Happy 4th of July! I don't have anything special planned for you today, so I thought I'd share my answers to a running survey that I saw on Hungry Runner Girl's blog. I'd love for you to answer the questions (or at least some of them!) in the comments or, if you have a blog, share your responses there!
Who doesn't love a random survey? And what's more random than my header photo of a tomato dispenser for running??
Would you rather run along a beach path or on a mountain trail?
Running on a beach or a mountain trail probably means that I am on VACATION since we don't have either of those in Minnesota, so either one is fine with me. I love beach vacations but I also love trail running. I'll vote for trail running in the mountains followed by relaxing on the beach.
If you could choose the flavor of Gatorade at your next race's aid stations, what would it be?
White Cherry Powerade please!
If I gave you a $100 gift card to a running store, what would be the first thing that you would purchase with it?
Clothes. Maybe some more Distance Shorts by Oiselle, or I would go to Gear and buy some Run MSP gear. There's a lot of cute stuff right now at Lole too (which has a retail location downtown Minneapolis!) Oh, so many choices. Bottom line, if you gave me a $100 gift card to a running store I would not find it challenging to spend it and I would think you are really awesome.
Do you prefer to follow a training plan or wake up and decide then how far and how fast you want to run?
Training plan all the way. Tell me what to do and how fast.
Would you rather start your run with the uphill and end on the downhill or start your run with the downhill and end with the uphill?
End on the downhill, feeling strong!
When you can't run, what type of cross-training do you choose to do?
Barre classes and solidcore classes. If I really can't run for cardio, then I will resort to the elliptical or swimming laps.
What is your preference-> Out and back, point to point or loop runs?
LOOP.
If you could recommend ANY running related item to a new runner, it would be a->
Running club 🙂
Do you ever see any wild animals while out on your runs?
Yes! In Minneapolis, I see bald eagles, turkeys, foxes, muskrats, bunnies, squirrels (albino squirrels), muskies (seriously, jumping in Lake of the Isles!), an occasional deer.
AND… I am SO excited to report that I saw a black bear yesterday at the cabin while I was running (alone- no Dustin or Matilda as a witness). He was about 100 yards in front of me crossing the road. I freaked! It was a huge adrenaline rush, but I know that black bears don't attack unprovoked, so I just watched him go along his merry way. I couldn't dig my phone out fast enough to get a picture, so you'll just have to take my word on this one.
Ever gotten lost while out on a run?
Definitely! When I was in Singapore for work, I would try out new routes and generally had to sort of wing it to find my way home. Fortunately everyone was really nice and helpful.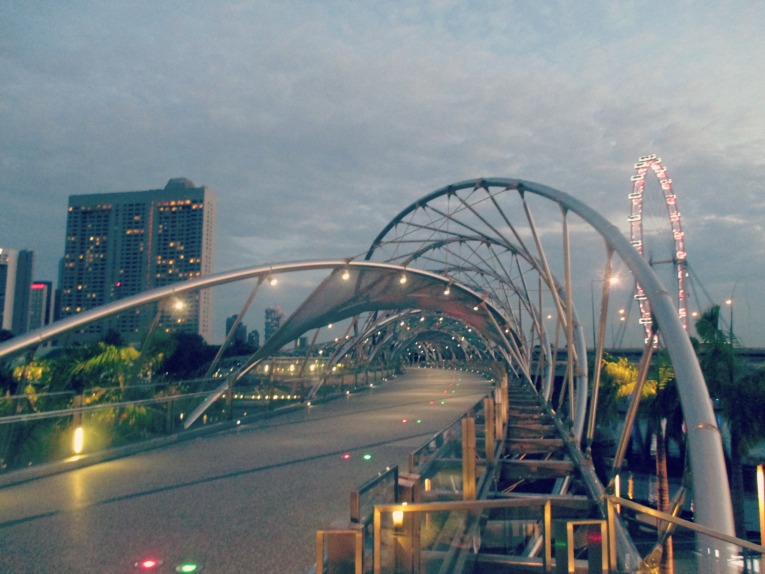 If you could have one meal waiting and ready for you each time you got home from a run for the next 30 days… what would that meal be?
Waffles. Maybe a savory waffle like the ones at the Waffle Window in Portland. Yummm…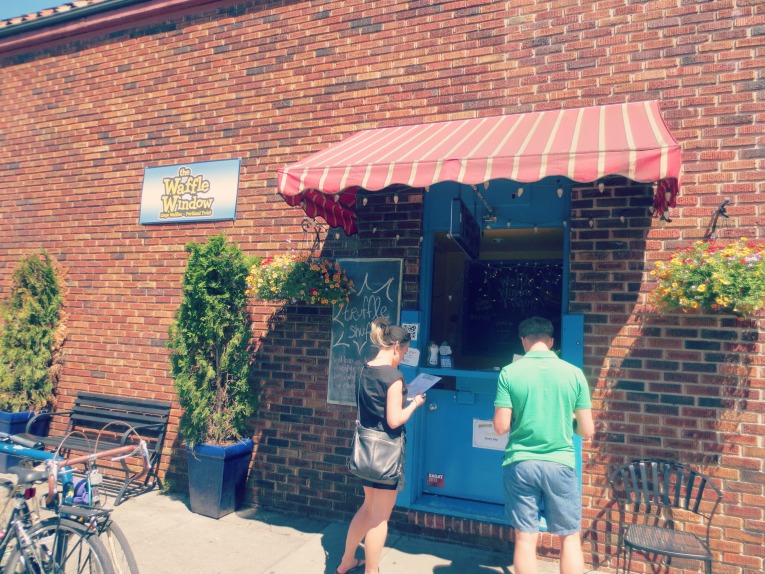 Capris or shorts… what do you run in most often?
I always choose shorts if its an option. I have so many running shorts and I love them all (some of my favorites are these and these) However, I probably run in pants or capris more often because I live in Minneapolis and shorts running season is very "short" lived. <-– see what I did there?
At what mile (or how many minutes) into your run does your body start to feel like it is warming up and ready to go?
Mile 2 or 3. The first mile always feels clunky.
What do you do with your key when you run?
I have had a lot of key drama over the years. I go with shorts/pants with a zippered pocket. I also have a Nathan wrist pocket that I'll use occasionally.
If you could relive any race that you have done in the past, which one what it be?
The Tokyo Marathon. Surreal experience. Loved every minute of it.
What type of run is your least favorite type of run?
I hate racing until it's over, but then I love racing 🙂 I love the easy runs with no Garmin with Dustin and Matilda. I also love my morning runs with any of the CBRC ladies! Oh…LEAST favorite? Probably the ones where you find out you have an injury! Or the one where you lose a key.
What has been your biggest motivation lately to get out the door to get your run on?
Well, for a while there, it was my 3:45 Grandma's Marathon goal. Now it's going to change to a BQ goal!
When you go for a run, do you leave right from your front door or do you drive somewhere to start?
Most of the time I run from my front door. That's why we live where we live! But of course, some days I go to the Calhoun Beach Club first or meet a friend. I have occasionally run from my office too.
When running in daylight-> are sunglasses a must or an annoyance?
Definitely a must, though I am really good at losing them!
When you get tired, what keeps you from quitting?
Lots of positive self-talk or thinking about how good I'll feel when it's over. Bargaining is also acceptable ("just finish this run and you can relax the rest of the day..or have a waffle!")
All randomness today. Hope you enjoyed and I hope you're having an awesome long holiday weekend!
(Visited 266 time, 1 visit today)