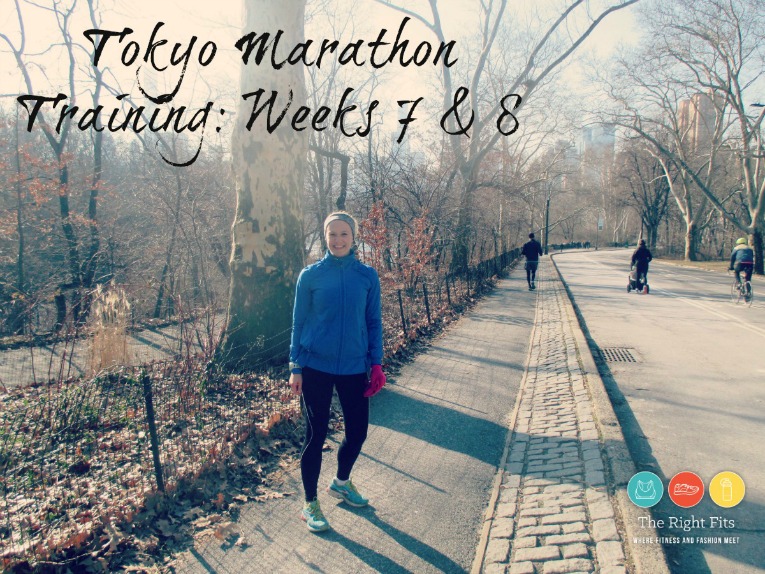 I know that reading workout recaps can be a little boring…I apologize in advance! But one benefit of the blog for me is that it really helps to keep me accountable. Also, I can reflect back on my training closer to race day. And race day is only 4 short weeks away!   I also hope that sharing my training plan helps you with yours- maybe seeing what works for me and what doesn't work…i.e Hopefully my journey to find the
right fit 
in fitness helps you some way on yours!I'm a week behind, so here are my recaps from the past two weeks, weeks 7 and 8 out of 13 for the Tokyo Marathon.
Week of January 5 through the 11:
I spent this week working in the Philippines. Unfortunately, I was unable to run outside in Manila so everything from this week was on the old treadmill. If you have been to Manila, you know how crazy the traffic is. There are no pedestrian walkways. People just cross whenever they can. Fortunately, I was staying at the Fairmont Makati and they had a really nice gym, so the treadmill worked just fine and was much safer!
Monday: 5 mile easy run (treadmill)
Tuesday: 8 mile tempo workout: 2 mile warm-up, 4 miles at 8 min/mile pace, 2 mile cool down (treadmill)
Wednesday: 7 mile easy run (treadmill)
Thursday: 8 mile speed workout: 2 mile warm-up, 4 Yasso 800's with 3 minute recovery in between, 2 mile cool down (treadmill)
Friday: 5 mile easy run (treadmill)
Saturday: 10 mile long run in Singapore- I was unable to change my return flight after I found out I was going to the Philippines, so I had to fly back to Singapore to fly home. My flight on Saturday wasn't until 12:30 pm so I had time for one last long run in Singapore! The previous week had been a big mileage week with 65 miles/week, but this week was a cutback, so my long run was only 10 miles. Plenty of time to get one last run in!
Sunday: 4 mile easy run OUTSIDE in Minneapolis with Dustin and Matilda! Yep, home, sweet, home! It was an 80 degree temperature change, but I didn't care; so happy to have my favorite running companions back.
Summary: 47 miles of running, no cross training
Week of January 12 through 18: Week 8 of Tokyo Training:
Monday: 6.5 mile run- this was on the treadmill at my gym in Minneapolis. It was -10 degrees and too cold for me to run outside. Originally, I had a tempo workout on the schedule, but my legs were just too worn out from the jet lag….I could only manage 6.5 miles with lots of breaks. Afterwards, I had an email from my coach saying "skip the workout, take an extra day to recover"…too late! However, I basically had done an easy run anyways since I wasn't able to do the tempo workout. Jet lag is a real thing! The cumulative fatigue from 24 hours of flying is legit…
Tuesday: 8 mile easy run, Pure Barre class
Wednesday: Two mile time trial- I was supposed to do 2 mile warmup, 1 mile at 7 min/mile, 1 mile working down to 6:45 min/mile. I managed the first mile close to goal pace, but I fell apart on the second mile.I felt really discouraged that I failed so miserably to run the goal that my coach thought I could do. I sent him quite a bummed out email afterwards saying that I need to readjust my goals for Tokyo. His response was that it was definitely still the jet lag and my body wasn't recovered yet. He has confidence that my training has been strong,  and he still thinks I can PR in Tokyo.  Though I think he's right that my body needed more time to adjust, I argue that jet lag will be an issue for Tokyo! Granted, one 12 hour flight from MSP to Tokyo won't be quite as tough as 24 hours of flying back from Singapore, but I still think it will have negative effects.  If I take an honest look at my training, I'm just not sure how strong it has been. It's hard to tell…and here comes the self-doubt. My biggest battle!

Thursday
: 6 mile easy run. My legs were feeling better today.

Friday: 8 mile easy run. This run was through Central Park with my sister Erin. We ran at a very easy pace and we were able to chat the whole time.
Saturday: 17 mile long run with Dashing Whippets. A strong run- FINALLY! As I mentioned in Monday's post, I was so happy to have a strong long run. I was supposed to do 13 miles of this run at goal marathon pace and I did- and I did it on a hilly route in NYC! I felt really proud of myself afterwards; it was just the confidence booster that I needed after Wednesday's failed time trial.
Sunday: 4.3 mile easy run in Central Park again
Summary: 54 miles of running,  1 barre class
Thoughts on having a coach…
A few people have asked me how things are going having a coach for this marathon.
 I think it was a really good idea for me during this training season because I was training entirely on my own in Asia for the bulk of the training. Having a coach to report back to after every run kept me accountable. I was very proud of myself for getting up virtually every morning to run at 5:30 am. There was no one meeting me and no one to push me to get off my butt. I had to do it all on my own and I did- but I think having a coach (that I was paying) helped me to stay motivated.
I have also really enjoyed having a customized training plan. I like having exact goal paces for each type of workout. Even though the time trial goal didn't work out, generally the goals Antonio sets for me are challenging but attainable.The training plan itself is quite similar to the one I historically have followed with the Calhoun Beach Running Club. There are two workouts a week and one long run and then lots of easy runs. A big difference though is that there are minimal rest days. I run on Fridays when I used to rest and I generally run at least 6/7 days a week, sometimes 7 days a week. In some previous training seasons, I have maxed out around 50-55 miles a week, but I have already hit 65 miles/week in this plan.
Antonio has also given me a lot more goal marathon pace workouts within my long runs. The tempo workouts have been longer as well; with the CBRC, we usually max out our tempo workouts around 3 miles, but Sunday's tempo was 5 miles at tempo.
Having a personal coach isn't cheap; I pay $150/month for mine. I am not sure yet if I will use a coach again. I guess it depends on how Tokyo goes!
I do think a coach is a good idea for first time marathoners who don't want to develop their own plan. It is also a good idea for experienced marathoners who are looking to change things up and achieve a new goal. If you're just running marathons to run them, you probably don't need to spend the money on a personal coach.
Those are my personal thoughts so far on having a coach, but I still have 4 more weeks with mine that might affect my final opinion. I will keep you updated!
What do you think about having a personal coach? Do you prefer to develop your own training programs- think a coach is a waste of money for a middle-of-the-pack runner like me? Please feel free to share your thoughts in the comments!
(Visited 308 time, 1 visit today)