After 6 weeks of traveling around Asia, I returned to Minneapolis last Sunday, only to pack up for more travel!
But this time, the travel was all for fun; fun in the form of a long weekend trip to New York City for my oldest sister's 40th birthday! Three sisters and one college friend descended upon a perfect VRBO in Midtown for four nights in the Big Apple.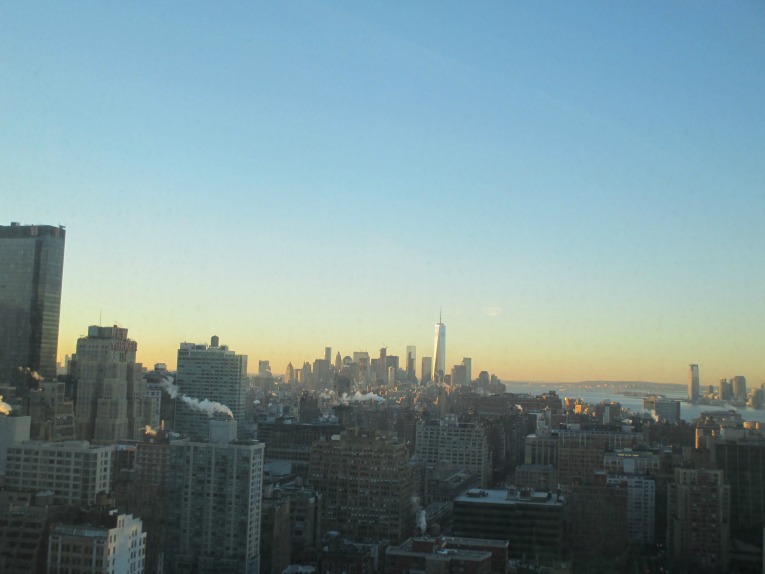 The other girls arrived earlier in the day, but I arrived on Thursday evening around 8 pm in time to join them for a late dinner at Beauty & Essex. It was the perfect opportunity to wear a dress I bought in Singapore! I called it my "Santa Claus" dress as the faux fur on the bottom definitely was reminiscent of a Christmas stocking.
Friday morning, my sister Erin and I ran 8 miles around Central Park. The birthday girl and her college friend did a shorter run as well. The condo we rented was just a short one mile jog from the Columbus Circle entrance.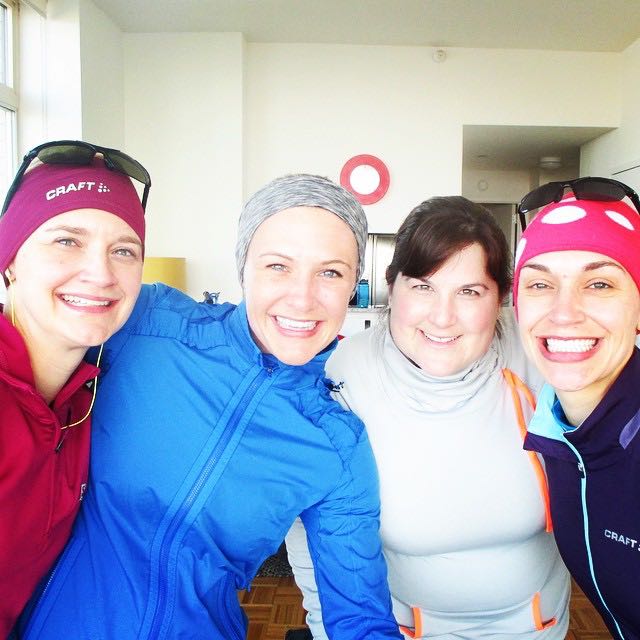 I have run in Central Park in the past, but it had been quite awhile. I didn't really know where I was going, but we just kept to the periphery for about 6 miles with the 1 mile to get to the park and the 1 mile run back to our rented condo.
Running is such a great way to catch up and I really enjoyed running with Erin, despite the cold temperatures. At least the sun was shining!
We got a kick out of the signs around the park urging patrons to donate to the conservancy, especially the one in the bathroom!
After the run, we headed downtown for the biggest sandwiches I have ever seen at Pisillo Italian Deli and then walked over to see the 9/11 Memorial.
…followed by some serious shopping at Century 21. I found a Tory Burch purse and a DVF dress for a fraction of the retail price!
We had an early dinner reservation at LUPA in Greenwich Village, so after a couple hours of shopping, it was time to get ready for dinner.
I definitely recommend Lupa! We all enjoyed our dishes, but my pumpkin ravioli was particularly amazing, which we followed up with a nightcap at the Malt House pub down the road.
Saturday I was up early to join my friend Jehan at Central Park for a long run with her running club, the Dashing Whippets. Jehan used to run with the Calhoun Beach Running Club, but her job moved her to NYC about a year ago. It was so fun to be able to hop onto another running club for my long run. After all,  it had been about 8 weeks since I had company on a long run. It was SO refreshing to run with this group! My pace was NORMAL again (yay!) I felt strong and the miles seriously flew by- all 17 of them.
Jehan dropped out early as she has a half marathon next weekend, so I finished up the run with strangers. But that's the thing about running- by the end of the run, we weren't strangers anymore. I had a great time exploring Randall's Island and Central Park and getting to know some friendly New York runners.
It was pretty cold that day so after I made my way back to the condo, it took me quite awhile to warm up. The rest of the girls had spent the morning at Books on Strand and were then having lunch at Eataly. I slowly made my way to join them, after which we walked quite a bit (in the cold!) through 5th Avenue and more (with a few stops for shopping) before finding our way to the Museum of Modern Art.
We spent the rest of the afternoon exploring the exhibits there.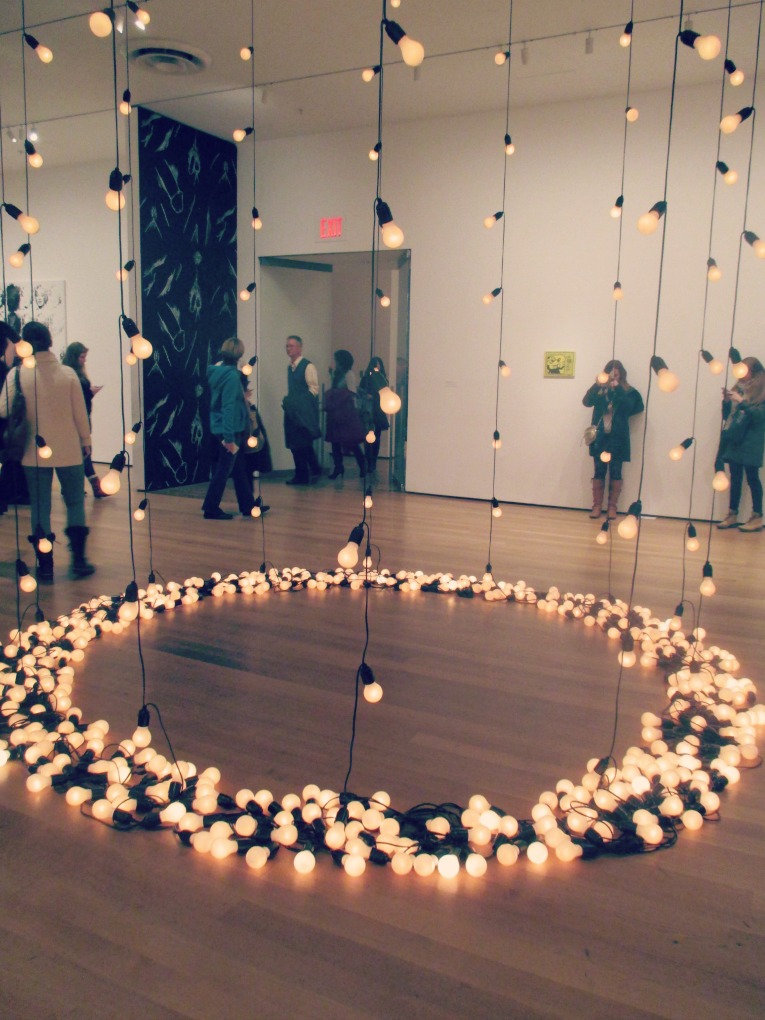 The MoMa was surprisingly packed, but we fought our way through the crowds to see as much as we could.
(Oh hey, the selfie stick came with to NYC!)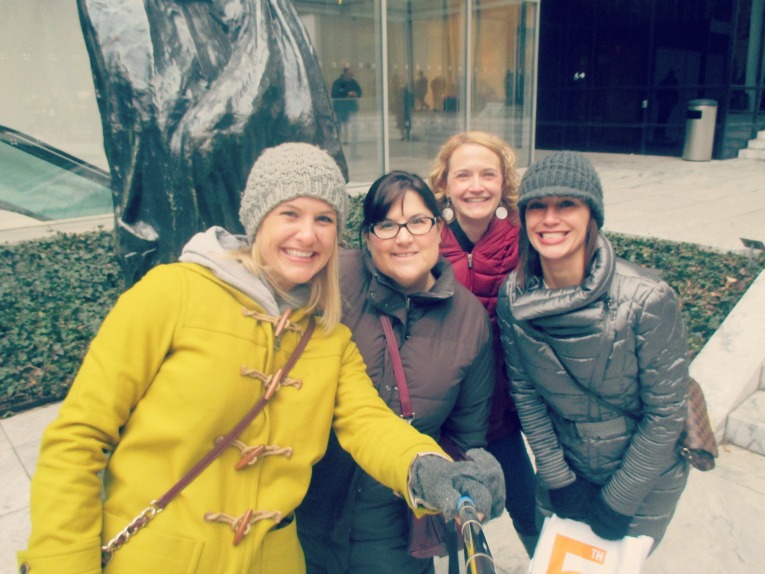 Saturday night, we cabbed to the meat packing district for dinner at Spice Market followed by a quick drink on the rooftop of the Gansevoort. We were hoping to spot Scott Disick (my sister watches a lot of Keeping up with the Kardashians while running on the treadmill), but no luck.
Sunday morning, we awoke to pouring icy rain. I only had a short run on the schedule, so I decided to tough it out. The streets were slippery, but once I got to the park, it wasn't so bad.
After my run, Erin and I went back to the 9/11 Memorial to take in the museum there. We both agreed it was very well done- I'm glad I went.
After the museum, we met up with the rest of the girls in SoHo at the Mercer Kitchen for lunch. We tried to shop in SoHo for awhile, but the pouring rain made it a bit challenging. Well, we made one purchase each…umbrellas!  Highly necessary.
One highlight during our shopping was the store Evolution, which was really awesome. Cresta bought a lot of funky items for her daughters…I even bought a few bugs for Dustin, encased in resin!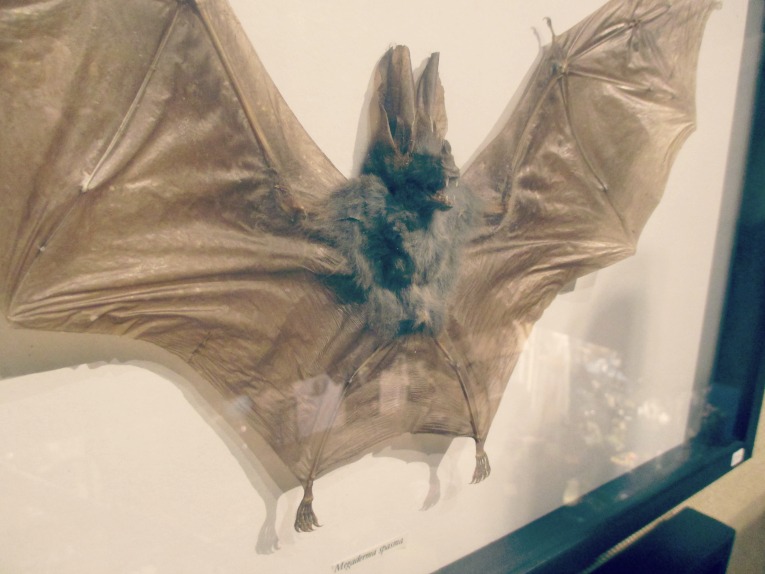 Sunday night, we ate at Shake Shack and then headed to the theater for Kinky Boots. It was great-it reminded me a lot of Priscilla Queen of the Dessert, which I saw several years ago in Minneapolis. I think all the girls really enjoyed it as well. Great choice.
My flight home was early this morning. I made it back in time for an 8 mile tempo workout, but I'll leave the details of that run for a weekly recap tomorrow of weeks  7 and 8 (out of 13) of training for Tokyo tomorrow!
We covered a lot of ground on our long weekend getaway and made a lot of memories. It has been a long time since I travelled with my sisters and this trip was a reminder that we need to do it more often….lots of laughs and good times.
With that said, I'm definitely very excited to be home now until our trip to Japan for the marathon! This is going to be my opportunity to make up for all the missed experiences from the holidays, with lots of being a homebody with Dustin. I. CAN. NOT. WAIT. 🙂
Tell me- have you been to NYC lately? Anything we missed? I'd love suggestions for next time! I wished I had time to run along the High line or explore Brooklyn, but I didn't have enough time…
(Visited 455 time, 1 visit today)