The past five years, my family has organized their
own
5k. You can check those out
HERE
and
HERE
. We "organized" this 5k just for the family. It was an opportunity for us to share a fun run with the whole family, and it was a healthy event where everyone could join. We tried to make it authentic with shirts, medals, a post-race party like no other, and more.
However, this year, we are actually going to be participating in a sanctioned 5k in Milwaukee, the
Drumstick Dash
. My sister Cresta thought this would be a fun change- a REAL 5k this year! And it's for a good cause, as it benefits "
Feeding America"
a hunger-relief charity. The 5k finishes in Miller Park, which will be a lot of fun! Unfortunately, no dogs allowed though, so Matilda has to sit this year out, but most everyone else in my immediate family will be there.
last year's turkey trot- Matilda won first place in the dog division!
Though I will be in Milwaukee, you should check out one of the following options for Thanksgiving Day runs in the Minneapolis area!
There's the ever-popular
Lifetime Fitness Turkey Day 5k
at 8 am downtown Minneapolis. I have run this one multiple times in the past, but it definitely is a little chaotic and crowded. It probably isn't my favorite. It's also a little pricey, with registration nearly $50 (for a 5k??)
One of my favorites when I have been in town for Thanksgiving (though it has been awhile) was the
Drumstick Dash 10k
around Lake Harriet. It's true that two laps around Lake Harriet is a little repetitive, especially since I run this lake quite a bit on my own. However, I like the longer distance of a 10k, and its so close to home, its hard to pass up. Registration is only $35, and that's for twice the distance of the Lifetime option! Its organized by Marathon Sports and it is USATF certified. Its definitely a little more low-key than the Lifetime 5k, yet more of a
runner's
race. This run is chip-timed as well.
There is a fun-sounding Gobble Gait 8k in Hastings, MN. I have never run this race, but it looks great! Check it out
HERE
. There is a Beast 2 Feast 5k around Lake Calhoun on Thanksgiving morning too, so take your pick Uptowners- Harriet or Calhoun! Website
HERE.
Weather too cold for you to run outside? Then check out the Walk to End Hunger 5k, which is held indoors at the Mall of America! (Check it out
HERE)
Seriously, there is something for everyone in the Twin Cities area. I'm sad that I will miss out, but I'm sure I'll have fun running the Milwaukee
Drumstick Dash
with my family!
…and to make things a little more fun, I purchased this fun holiday hat on Etsy for the occasion!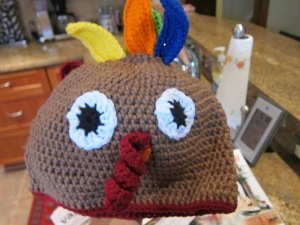 It was $30 on Etsy, made by hand by Nicole at Simply Hookin It. She even sent me a personal thank you card for ordering from her.
I'm not sure how comfortable the hat will be for running, but at least it's only 3.1 miles.
Check out Nicole's other handmade goods HERE.
With so many options in the area, you have no excuse not to get up early and break a sweat on Thanksgiving day!
Let me know which race you choose!
(Visited 99 time, 1 visit today)