Last weekend, Dustin and I visited Budapest for 3 nights. Here is a summary of our trip!
We arrived Thursday late afternoon from London. The first thing on our itinerary was a river cruise on the Danube, but it didn't start until 7 pm, so we headed out to explore a bit beforehand.
We saw the Shoes on the Danube memorial (read more here), St. Stephen's Basilica, some Christmas markets, and Hungarian Parliament (which would look ever prettier from the river cruise later that night.)
One of many Christmas markets going on; strudel is popular in Hungary!
I highly recommend a river cruise of any kind; there are so many options available, from dinner cruise, to cocktail cruise (which ours was), to "pizza and beer" cruises, to no-frills cruises. No matter how you do it, I think it's a must-do! Seeing Budapest from the river was stunning.
After the cruise, we just ate at our hotel, since it was pretty late. The restaurant was quite good; it was called Kollazs. I tried chicken paprikash, which is a traditional Hungarian dish. It was chicken (with paprika) served with wide noodles. It usually comes with a cucumber salad on the side. Tasty!
Friday, November 18:
We were up relatively early for a run; Margaret Island was a little more than a mile from our hotel, so we headed there and discovered a lovely rubber track around the island. The track was about a 5k! So with the mile there and back, we ended up with a 6 mile run. Of course, with two vizslas of my own, I was on a quest to see as many Hungarian vizslas as possible and we found one on a run with his mom on the island!
For me (and Dustin), running on vacation isn't so much about "just can't take a rest day/must workout" mentality. Rather running is such a wonderful way to explore! You can see twice as much in half the time as walking, and well, I love to run! We probably wouldn't have gone to Margaret Island if not for the run. Totally worth a visit too!
After the run, we had a great breakfast at our hotel. By then, it was raining pretty hard, but our plan was a self-guided walking tour, so we went forward with the plan, despite the weather!
We took the metro to the City Park, where we started the tour (I basically followed THIS ONE which was great!)
We strolled past the Szechenyi thermal baths, but we knew we'd be back there for a soak the next day. We moved on to the "Anonymous" statue. You rub his pencil for good luck in writing. Read more on this blog.
Next was Vajdahunyad Castle in the city park:
Then, a rainy stroll through Heroes Square.
It was raining quite heavily and we were pretty chilly, we decided it was a great time for a stop at the Budapest Museum of Fine Arts. We spent about 2 hours there; it was worth a visit!
After the art museum, we made our way down Andrassi avenue to the House of Terror, which was disturbing (especially the basement), but well worth a visit. (No pictures allowed inside.)
Then we walked back to the hotel, with a few stops along the way from the self-guided walking tour (too many pictures to share them all!)
That evening, we had dinner at Borbirosag, known for their selection of Hungarian wines. We did opt for the cottage cheese cake dessert, a Hungarian specialty. It tasted pretty much like cheese cake to me! I liked it.
We had hoped to check out the Jewish Quarter where most of the ruin bars were (i.e. buildings ruined during WWIII that were essentially left as is and converted into bars). We walked over to that neighborhood in the pouring rain; the line to get into Szimple Kert was REALLY long and we decided we were too old to wait in a long line for a crowded bar in the rain…so instead we made our way back to our hotel, stopping at a few different Christmas markets on the way.
That evening we did taste some palinka, a traditional Hungarian alcohol, which was sort of like a brandy. Not my favorite, but glad I tried it!
Saturday, November 19: We were up early again for another sight-seeing run. We decided to combine the walking tour stops on the Buda side of the Danube into a run. (Buda and Pest used to be two different cities.) The Buda side is much hillier! But the castle district is over there, which includes Buda Castle, several monuments, and Fisherman's Bastion, which has incredible views of Budapest from high above the Danube. A more challenging run than Margaret Island (which was flat), but a very fun way to explore!
After the run, shower, breakfast, we took the Metro out to City Park again to check out the Szechenyi thermal baths. Our hotel actually provided sandals and towels; note that everyone is required to wear sandals when not in the baths.
You can pay a few extra HUF to get a private changing cabin with your entry fee.
The cabins unlock with your entry bracelet. Dustin and I misunderstood that we each had our own cabin, so we squeezed into the same one, and he accidentally pushed the wrong lock on the cabin, so we were locked IN the cabin! So embarrassing. So not only we were squished into the same cabin, we were locked in…We quickly called the concierge/front desk and they (eventually) came and unlocked us. Ugh. Stressful start to our soak!
There are 18 different baths as Szechenyi, with a few outdoors and the rest indoors.
We mostly stayed in the outdoor pools; a much better vibe in my opinion! Though we did wander through the indoor part to see what it was all about.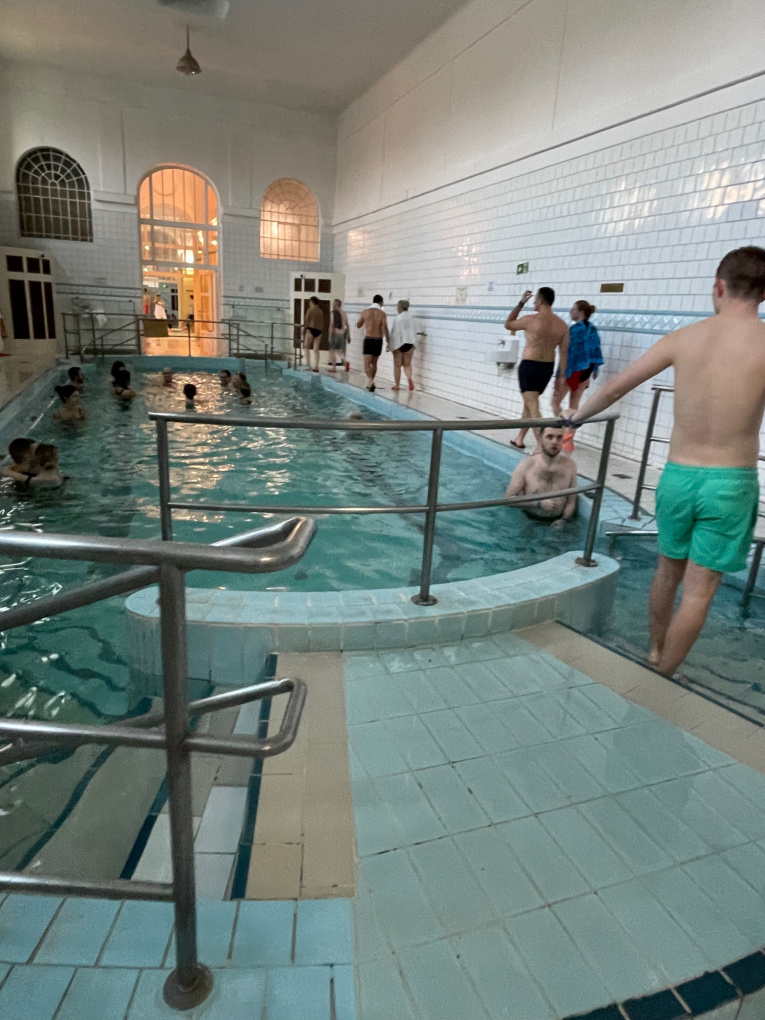 This bracelet was essentially your key to your cabin.
We were at the baths for a few hours before getting our fill. I do think visiting one of the handful of thermal baths in Budapest is a must-do on your list if you visit! It was a unique experience; I've been to handful of hot springs in other places, but this is still a must do.
After the baths, we hit up a few more spots on the walking tour before trying again in the Jewish Quarter to see some of the ruin bars at a much earlier (i.e. less busy, no lines) time of day. We had a late lunch at Mazel Tov and then went to Szimple Kert.
That evening we had dinner at Borkonya, which was a Michelin starred restaurant and was very good. Great Hungarian wine selection too (Hungarian wine is so inexpensive!)
We went to Boutiq Bar at the end of the evening, which was a really cute little spot.
This was the "But first, let me take a selfie" cocktail. Ha!
Sunday morning, we said goodbye to Budapest and headed to the airport to make our way back to London.
My goal when moving here was to try to take one trip a month, either within the U.K. or otherwise.
In August, we went to the Cotswolds, which was grand. In September, we didn't go anywhere; we moved from the temporary housing to our flat in Hampstead; that month flew by. In October, I was supposed to run the Amsterdam marathon, but got Covid instead. Dustin still went to the Netherlands (and had a great marathon.) Instead I ran the Porto marathon in Portugal, which was technically the beginning of November, but let's call it my "make-up" October trip, ha! Budapest was always planned as our November trip.
Budapest was beautiful- even in the rain and the chilly temps, we had a wonderful time exploring. I don't think it's a place I may have had a chance to visit if we weren't living in London, so I'm very grateful for the opportunity to have explored Budapest.
Have you been to Budapest? What did you think? Let me know what I missed during our visit, in case we ever go back!
(Visited 259 time, 1 visit today)