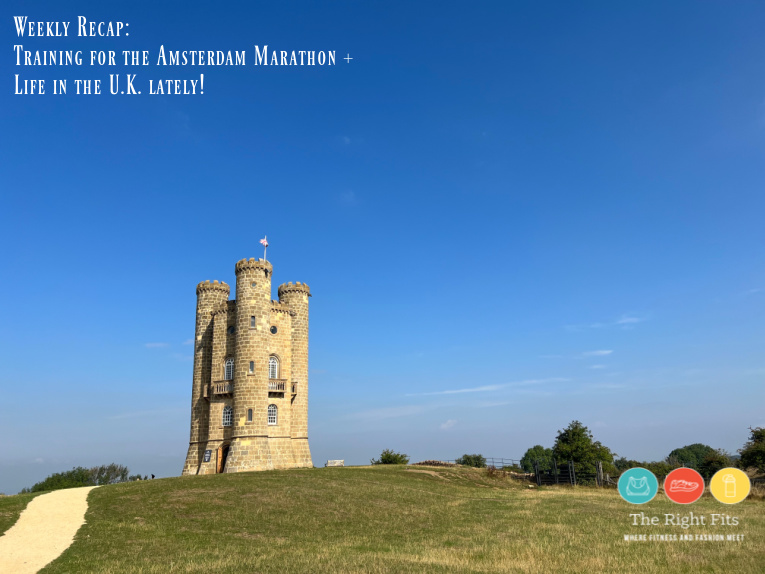 Hello from the Cotswolds! The Cotswolds are an "AONB" or "area of outstanding natural beauty", and a quintessential British holiday location, with charming villages, castles, and lots of walking!
I hope to share more about our long bank holiday weekend here in the Cotswolds, so for now I'll focus on training for the Amsterdam marathon, with a few other announcements at the end of this post.
*If you missed it, be sure to check out my post about a few things I've learned so far about living in London, catch up HERE.
Monday: 7 mile solo morning run. I did the "embankment loop" <- not sure if that's what its called, but that's what Dustin and I are calling it, when we run around the River Thames rather then to the east towards Wapping and Victoria Park. 20 minutes of lower body strength + 10 min core on the Peloton app after work.
Tuesday: Early morning dog walk, then a run commute with a colleague (about 3.3 miles) and a run commute home (3 miles), 10 min core on Peloton
Wednesday: 9.3 mile run before work with some marathon effort and a bit faster in there, 10 min core on Peloton after the run.
Thursday: 6 mile embankment loop in the pouring rain. And there were some serious puddles along the river! My shoes were drenched. I fit in 10 min of core + 20 min upper body on the Peloton app.
Friday: Since we were heading to the Cotswolds, I did my long run this day; (I had the whole day off of work.) I ran to Hyde Park & Kensington Gardens and looped those parks a few times for 18 miles total.
I was held up outside of Buckingham Palace; I believe it was the changing of the horse guard.
We drove to the Cotswolds Friday afternoon and arrived around 5:30 pm to our AirBnB in Winchcombe. We did a long walk with the pups before grabbing dinner at the White Hart pub.
Saturday: Rest day from running! We drove to Broadway, where we did a 6 mile walk to Broadway Tower and back.
Next, we drove to Bourton-on-the-Water, where we then walked to Lower Slaughter and back (about 4 miles.)
The pups encountered sheep, cows, llamas, and horses. Quite an exciting walk!
The Cotswolds walking path crosses right through the pastures. There was no avoiding them!
After we got back to Winchcombe, we took the pups to this big open field to run off-leash for awhile. They were living their best life and so tired by the end of the day, as Dustin and I headed to dinner at Restaurant 5 North Street. Great restaurant if you find yourself in Winchcombe! 🙂
Sunday: Dustin, Ruth, and I headed out for a 5-ish mile trail run (Matilda stayed behind to rest- Saturday was a lot for her!) We ran what felt like straight uphill to a prehistoric burial site called Belas Knap Long Barrow.
38 skeletons were found here that dated back to 3,500 B.C. So cool!
I much preferred the downhill after visiting Belas Knap. I am not a strong uphill runner and had to walk a lot!
We plan to explore a few more villages in the Cotswolds today before driving back to London tomorrow.
Summary: 52 miles of running, 26 miles of walking (so far!), attempt at daily core + mix of strength on Peloton
A couple announcements: I have decided to stop coaching runners for awhile; I have always loved doing it as a side job/hobby, but I am feeling a bit over-extended, so I decided it was best to drop that for now. I coach 10 athletes at the moment, most of which are doing fall marathons/half marathons/etc. I plan to take them through their races, but will be sending them referrals to other coaches (share yours if you love them!)
I also decided to stop working with my own coach (who is via McKirdy Trained.) I've loved working with her- she safely brought me back to marathons after my dramatic broken leg. With her, I ran the Houston marathon, the Antarctica marathon, the Brookings marathon, the Indianapolis marathon and the Atlanta marathon; we worked together though the pandemic and then on to the Idaho marathon, Fargo marathon, Route 66/Tulsa marathon, Baton Rouge marathon, and then Boston. She was also a great support through my mother's passing and our move to London. I have nothing but good things to say about her.
So why am I stopping? I've realized that I want to have the flexibilty to say yes to any running offers or groups, run commutes, etc. It doesn't make sense to pay for a coach unless I am 100% committed to her plan. Amsterdam will be my 40th marathon and as a (prior) coach myself, I will set up my own plan for awhile. She was completely supportive and understanding. Maybe at a later date, I will come back to her, but for now, I am self-coaching. I will still continue to run marathons as long as I can. We are researching ideas for a spring marathon (Vienna? Krakow? Geneva? Rome? Not sure yet!)
I'm linking up with Running on the Fly and Confessions of a Mother Runner; check out their blogs to connect with other fitness bloggers for workout ideas and inspiration!
(Visited 290 time, 1 visit today)